View Product Reviews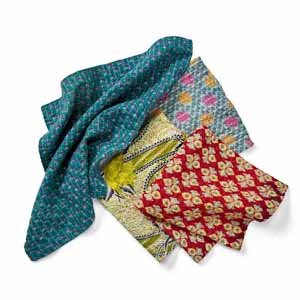 Kantha napkins
Dec 8, 2023 | Posted By Marlene Timmons from Birmingham, AL United States
They are beautiful and durable.
Gorgeous
Nov 9, 2023 | Posted By Maya Charlton from Berkeley, CA United States
Beautiful, bright and cheerful
Beautiful and Fun
Oct 31, 2023 | Posted By Jane Seville from Atlanta, GA United States
We love these napkins. We received them as a gift and then gifted them to friends as well. What is most amazing though is customer service. We had a small glitch in the ordering process for which they found an easy workaround. And the rep stayed in contact until the order was complete. The recipients loved them as much as we do!
Wonderful napkins!
Sep 20, 2023 | Posted By Kate Harris from Tucker, GA United States
I searched a long time for interesting, attractive napkins that are a good size and are machine washable, and these Kantha napkins are just perfect! Each one is different, and each has different patterns front and back. They're lightweight but absorbent. I love using them, and am sorry I waited so long to order them!
Highly recommended
May 29, 2023 | Posted By Laura from Tacoma , WA United States
I ordered two sets of these and couldn't be happier with them. They're cotton (which I prefer), large, and double-sided in beautiful fabrics. I'll be ordering more for Christmas gifts!
Big beautiful napkins!
Apr 11, 2023 | Posted By Ridley from Grand Marais, MN United States
These are a pleasure to look at, use and fold. My husband likes a big napkin & these beauties bring pleasure & function to our table.
Really Nice
Mar 29, 2023 | Posted By Catherine P Stephenson from Mary Esther, FL United States
Really like these pretty napkins. Love the big size. Will order more.
Soft and durable
Jan 22, 2023 | Posted By Jessica from Portland, OR United States
Love these napkins. Bought 12 and while they are all unique I found that at least one side has red (to go with our tablecloth, or green, so can make a creative but cohesive table.
Eclectic and practical
Jan 12, 2023 | Posted By Anne from San Antonio, TX United States
These napkins are soft, generously sized, and a fun way to add color to a table. I appreciate that they are recycled, although one of mine arrived with some obvious stains on one side. All the others looked like new fabric, even though they aren't. I look forward to using them.
Pretty table addition
Nov 17, 2022 | Posted By Carmen Kulig from Bettendorf, IA United States
This set I will divide for coworker gifts with some other items from Serrv. I am not sure how good the fabric really is for a napkin, but very workable for a lunch bag or if you want to have your cuppa tea and snack with a pretty napkin.
Perfect
Sep 2, 2022 | Posted By Sue Lion from Boulder, CO United States
I love the napkins. I ordered three sets and all of them are different, which gives me such pleasure in choosing what I'll put out at dinner. The front and back sides are different - that gives me 24 napkins to choose from! They are well-made and hand-stitched. I feel I'm putting out a work of art on the table when I serve the food. I'm also happy to be able to order from a company that helps people be able to support themselves.
Love these
Jun 5, 2022 | Posted By Pam from Defiance, OH United States
The fabric. The pops of color. The ease of washing. The story behind them. I like it all. They go well with my FiestaWare and help to reduce one use paper products. Love love love the kantha sewing style.
Best Napkins I've ever had!!
Jan 24, 2022 | Posted By Patricia McConnell from Covington LA, LA United States
I bought 4 sets this time! I'm not a formal person. I love unique patterns and each napkin has two patterns so there's 8 fabric prints highlighting the serving table! They wash and wear without fading, staining isn't recognizable with all the colors. They compliment various colors of china beautifully! Very festive!
Gorgeous napkins
Dec 28, 2021 | Posted By Maureen Kosa from Bellingham , WA United States
These cloth napkins are stunning. Each print is unique and a beautiful complement to my daughter-in-law's beautiful pottery.
Wonderful Kantha napkins
Oct 24, 2021 | Posted By marcia rice from Gresham, OR United States
I love these cloth napkins and use them on a daily basis as well as when company comes. They are not only beautiful but I can easily launder them in the washing machine. I've given them for gifts and will be ordering more!!
Beautiful and very practical
Oct 19, 2021 | Posted By Judy cowee from Milton Freewater, OR United States
I love them and the different designs are fun. They wash well and are great with any meal. I will probably buy more. I have bought 3 sets
Kantha napkins
Mar 30, 2021 | Posted By Robin Horner from San Francisco, CA United States
These are beautiful! I am delighted with the vibrant patterns and accent hand stitching, which reminds me of a quilting stitch. I am using them for my day-to-day napkins, but they would make a wonderful housewarming or wedding gift.
love these napkins
Mar 26, 2021 | Posted By Patrice Clark from BELLINGHAM, WA United States
I now have bought 2 sets of napkins and we use them every day. They wash up well. I use cold water or hand wash and hang to dry. Very well made. Thank you.
Great napkins!
Mar 18, 2021 | Posted By Colleen C. from Saint Paul, MN United States
I was looking for some high quality, multi-colored napkins to add to our tableware, and these were exactly what I was hoping for. I love the fabric, the stitching, and the fact that there are different designs on each side. Well-made and beautiful--highly recommend!
wonderful gift
Feb 15, 2021 | Posted By Amy Bouse from Inglewood, CA United States
I use these at home and have given them as gifts. They are well received! Fabrics are forgiving, which is wonderful for napkins. These objects feel nice in your hands.
Lovely napkins!
Feb 10, 2021 | Posted By Patrice Clark from Bellingham, WA United States
These napkins are all different and very practical. I am using them for several days before hand washing in cold water. Thank you.
Joy!
Feb 6, 2021 | Posted By Liz from Sarasota, FL United States
Love these in the kitchen! Get softer with the wash and last forever. Love the colors as it brings so much joy to the kitchen! Thank you!!
Indian dish towels and napkins
Jan 5, 2021 | Posted By Ellen Wright from north palm beach, FL United States
I have ordered many of these but I am disappointed in the stitching this time. there are loose threads, no knotted so I had to sew them myself.. to stop the stitch from pulling out.. Not as careful as usual. a lot of demand this year... at this time. so they are rushing to fill orders.. tell them to calm down and make sure the stitches stay in.
Cloth Napkins... add so much!
Nov 29, 2020 | Posted By Andrea Duncan from Stillwater, OK United States
I'm so pleased with my sets of kantha napkins... the unique color combinations creates one-of-a-kind textiles yet they all "go together." Had to order 2 sets... they make perfect 'gift wrap' for tiny things & are their own gifts... lots of sharing! Thanks for the super-rapid service and effortless transactions. I admire & respect the artisans & the work you do to share them with the world... Peace!
Kantha Napkins
Nov 27, 2020 | Posted By Karen Getman from Spokane, WA United States
These are very beautiful and soft. The hand stitching is very nice and adds a special touch.
Cheerful and useful!
Oct 10, 2020 | Posted By Denise Goodman from Warriors Mark, PA United States
I always thought about cloth napkins as something fancy and special. About ten years ago we stopped using paper napkins for everyday. Some of my cloth napkins were looking pretty sad/stained so it was time to refresh and I absolutely love these cheerful (and stain hiding) fabrics! Looking forward to years of use, where fancy meets everyday with these!
Perfect Cloth Napkins
Oct 5, 2020 | Posted By Patricia A McConnell from Covington, LA United States
Colorful, mixed, festive, hand stitched cotton napkins. Love them for any occasion. Ordered two sets. Would make a nice gift.
Beautiful, functional
Jun 17, 2020 | Posted By Linda from Highland Heights, KY United States
Beautiful, well made and very functional. The two orders I received were a variety of fabrics, great for having each person in the family identify their own napkin. This has cut down on our paper waste.
Kantha Napkins
Feb 26, 2020 | Posted By Cathy Relihan from Denver, CO United States
This set is the 3rd I have purchased, 2 for gifts and this one for myself. The quality of the product is great, but I was very disappointed in the selection that was chosen for me. All very dark and rather dull colors. The ones I bought for gifts included at least 2 out of 4 with vibrant and bright colors. I will probably not use these for napkins, but rather find another way to use them, like dishtowels.
Quality work!
Nov 1, 2019 | Posted By Joyce Jasper from INDIANAPOLIS, IN United States
Love these kantha napkins. Great reuse of cotton fabrics.
Soft and thick
Oct 13, 2019 | Posted By Jessica from Huddleston, VA United States
Lovely! Double cloth with embroidered quilting. Went through the machine beautifully.