View Product Reviews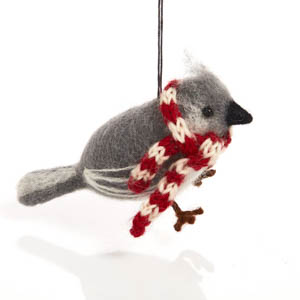 Cute
Nov 30, 2022 | Posted By kimberly from brooklyn, NY United States
This will be an adorable addition to my granddaughter's traditional bird ornament collection this year. Very cute.
Even better in person!
Feb 8, 2021 | Posted By Elaine from Niles, MI United States
This is a gift for my bird-watching son, and I know he will love it! It is absolutely adorable!
So Cute!
Nov 15, 2020 | Posted By Susan Kepner from YORK, ME United States
Love this darling little bird. Well made and so cute with the scarf. This also helps the people of Nepal.
Adorable tuffted titmouse ornament
Oct 28, 2019 | Posted By Lucy-Nadya Stoy from Reno, NV United States
This ornament is soo cute! I am very glad to have it in my collection..
Great
Oct 13, 2019 | Posted By Maureen Readinger from Narberth, PA United States
Purchased a few of these; great ornament