View Product Reviews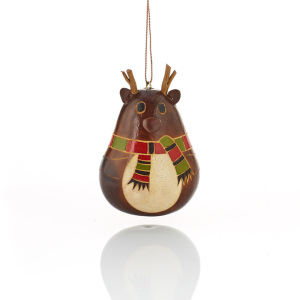 Delightful ornaments for grandkids.
Nov 3, 2023 | Posted By P Sprinkle from Raleigh , NC United States
A reindeer for the teen who ate reindeer in Norway last summer, a nativity for a college kid who loves Jesus, and a unicorn for their little sister. I give the kids an ornament each Christmas so they'll have them when they are grown and I am gone. This year I am especially pleased with these.
Love this! Thank you and hope they enjoy their ornaments this year.
Very creative!
Feb 10, 2020 | Posted By Sandra Baldassare from Coon Rapids, MN United States
I bought this Little Antler Reindeer ornament after purchasing the Happy Snowman. Both of them are so cute and unique. We are always looking for new and different things for our tree. Thanks, Serrv!
Unique and nicely crafted
Nov 22, 2019 | Posted By Drusilla Malavase from Bloomfield, NY United States
Two of my best friends are getting ornaments from this wonderful artisan, and I will be looking for more in the future.
Adorable reindeer ornament
Nov 16, 2019 | Posted By Ann Marie Staab from Hawthorn Woods, IL United States
I look forward to giving this adorable reindeer ornament to my 5 year old granddaughter for Christmas.
Antler Reindeer gourd
Oct 15, 2019 | Posted By Katie from North Yarmouth , ME United States
This reindeer ornament is so adorable! Thank you for creating this! Can't wait to hang this up on a Christmas tree this year!