View Product Reviews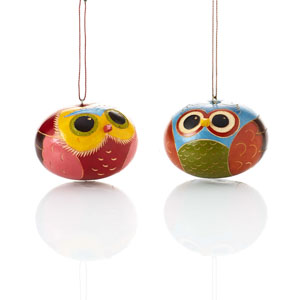 so cute
Sep 29, 2023 | Posted By Sarah Bullington from Medina, OH United States
I just love these, they are going to look so cute on my tree. I love the fair trade gourd pieces.
Super cute!
Mar 10, 2023 | Posted By Katie from Portland, ME United States
Bought these as a gift. The recipient was delighted!
Just as expected
Feb 7, 2023 | Posted By DM from West Chester, PA United States
Lovely little items. Good quality. I've never been disappointed in any Serrv purchase.
Beautiful!
Dec 10, 2021 | Posted By Suse Kinkley from Beaverton, OR United States
Beautiful, cute, great condition, as advertised!
Brilliant owl ornaments
Dec 24, 2020 | Posted By Patricia DeBruhl from Warwick, NY United States
The owls are cute and adorable and were loved by the gift recipients.
Adorable
Nov 24, 2020 | Posted By HELEN FAUTEUX from Los Angeles, CA United States
Can hardly wait to give to my grandchildren to hang on the Christmas tree. Really lovely!
Owl Gourd Ornaments
Nov 10, 2020 | Posted By Jean Cheatheam from Lacey, WA United States
I bought these for my grandsons. I give them ornaments with a nature theme every year. These will be great for this year. I can tell them about Fair Trade and how this purchase helped someone.
Shipping fees
Nov 2, 2020 | Posted By Dorothy Pollack from Schenectady , NY United States
Love the tablecloth. Bright vivid colors. Just great. The little owl ornaments are adorable. So cute that 2 other family members would like them. At $22/pair plus shipping, makes these this purchase very dear. Still thinking about it.