View Product Reviews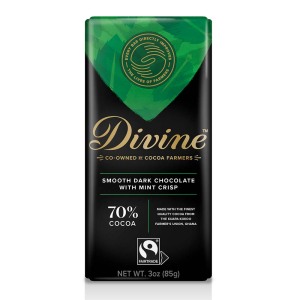 Chocolate review and one other comment
Nov 15, 2023 | Posted By Ann Engelman from Fort Atkinson, WI United States
Always, must have, SERRV chocolate in my stash. Thank you for being a "clean" no metal chocolate. I get emails from SERRV almost everyday. I have unsubscribed for awhile. Just too many emails. I enjoyed the other items I have purchased recently. Indigo travel bags and the salad "forks" Thank you for your good work
Thank you! There is an option on our emails to 'manage preferences' and receive fewer emails. We appreciate your support and are glad to hear you like what you've purchased.
ONLY PROBLEM WITH RECENT ORDER
Apr 17, 2023 | Posted By Bobbe Helmerick from Piedmont, SD United States
I love your mint dark chocolate! I love the fair trade concept. So you get a rating of 5! However, I may never order from you again. Because I hate the way you've started scoring your large bars with advertisement in multiple sizes. I'm already addicted and it is wasted on me. Also, even-sized pieces also provided me with a calorie count for my diet. PLEASE, TELL ME HOW MANY SAME-SIZED PIECES INTO WHICH YOU USED TO SCORE THEM ! ? ! I've been a long time customer, and before buying direct, bought these where ever I found them. At least since buying direct, my husband broke off one piece from the bar for me every night. He died last June. At first, I couldn't bear having a piece, but recently reinstated his "loving good night". I purchased multiple cases the last time, and it took a while to need to reorder. We began building our retirement home, but he didn't live to complete it. I am having it completed. Another goal of mine for many years was to decorate my home seasonally, so my most recent order included Easter decor. I have to watch my budget but splurging on fair trade items is my chosen way of decorating and gifting. If I I have to limit my purchase this year, there's always next year. Ideally, you would go back to scoring the large bars as you have in the past. If my request above is met, I will remain a customer. I will simply open each bar and use a warm knife on the back to reinstate the same sized pieces which bring back such wonderful memories.
So Satisfying
Mar 17, 2023 | Posted By Sandra Schaefer from McLean, VA United States
The Divine dark chocolate mint crisp bars are a decadent treat that my husband and I love!
This may be my favorite
Nov 9, 2021 | Posted By Dan Shonka from Central, SC United States
This is the third year I've ordered Divine bars for Christmas gifts. In the past we've enjoyed raspberry, almond, orange, mint and this year we added hazelnut. I really enjoy them all, but this crispy mint bar may be my favorite. Maybe. Proof of how much I like these---I've ordered them three years in a row.
divine chocolate
Jun 2, 2021 | Posted By Gerritt and Elizabeth Baker-Smith from Portsmouth, VA United States
Of course the chocolate is good.! SERRV has the best price I've found for it!
My favorite flavors, to be enjoyed every day
May 4, 2021 | Posted By Charlotte Melichar from Mitchellville, MD, MD United States
The dark chocolate with the little mint crispies is my favorite flavor, and I eat a little bit every day. Also, I bring along a bar when I visit special friends, and they like it, too.
Divine Crispy mint chocolate
Nov 22, 2020 | Posted By Miriam Cantor from Los Angeles, CA United States
This is my favorite chocolate bar. It's crunchy and tasty with a high % of chocolate made by a company that gives back to commmunities.
Delicious Gift
Dec 29, 2019 | Posted By Sandra Olivier from Marco Island, FL United States
These bars were a present for a grandson with a young family. All enjoyed them greatly!