View Product Reviews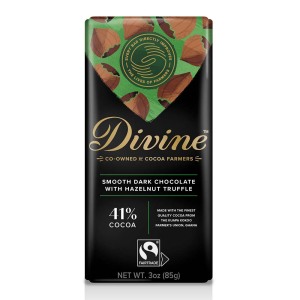 Order of November 2022
Nov 13, 2022 | Posted By Els Vingerling from Hayesville, NC United States
All items, arrived in good shape, well packed. These are always good selling products; excellent quality and good looking wrappers. This review is for ALL items in this order. Thank you.
Divine dark chocolate bars are. . . well, divine.
Nov 9, 2021 | Posted By Dan Shonka from Central, SC United States
This is a new flavor to the line-up. That said, this is the third year I've ordered some Divine dark chocolate bars for Christmas gifts. This is a new flavor, but I really like hazelnuts and Divine dark chocolate. I look forward to trying this new one Christmas afternoon.
Divine Dark Chocolate Hazelnut Truffle bars
Oct 26, 2020 | Posted By Nancy North from EVERGREEN PARK, IL United States
These bars are the smoothest , richly delicious chocolate bars on the planet, combines the creaminess of milk chocolate with the deep flovor of dark chocolate. Love them
truffle quality
Dec 20, 2019 | Posted By Vincen from St-Calixte, QC Canada
A real truffle quality that makes each piece worth it.