View Product Reviews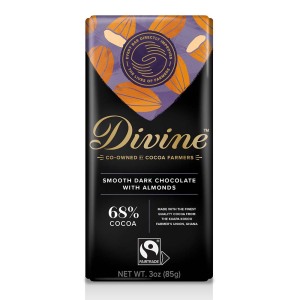 The healthy treat!
Nov 9, 2021 | Posted By Dan Shonka from Central, SC United States
I've ordered this flavor of Divine dark chocolate bars for three straight years. Healthy dark chocolate. Healthy almond chips. I only wish the almond chunks were larger (or full sized almonds), but then maybe it would be difficult to spread the almond bits so evenly throughout the bars. Anyway, these are excellent though not as strong in almond presence as I'd like. But, I still really enjoy this bar. Three years and running.
Excellent
Apr 5, 2020 | Posted By Cathryn from Newberg, OR United States
Smooth and just the right level of cocoa to enjoy the flavor of the almond pieces.
Best chocolate ever!
Dec 14, 2019 | Posted By Liz Buettner from Ely, MN United States
I love all the divine chocolates because they taste so delicious and are fair trade chocolate. I do not buy chocolate from any other source. These bars make wonderful hostess gifts.
Divine Chocolate-- Divine!
Dec 9, 2019 | Posted By Annemarie from Plainville , CT United States
I have been buying Divine chocolate in cases as Christmas presents for years. The chocolate is one of the best I have tasted and knowing it is fair trade makes it the absolutely best!