View Product Reviews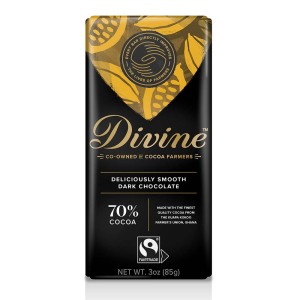 A chocolate bar that is great for the taste buds and Great for the people who grow the beans
Nov 19, 2023 | Posted By Ardel Sheffield from Eugene, OR United States
Recently the comedian John Oliver produced a segment on chocolate. One of the highlights of the story was about how child labor is rampant in the industry and how the major chocolate purchasers and producers ignore the problem. It's great to be able to purchase an excellent chocolate bar and know that the growers receive a decent price for their labors and that it is free from child labor practices.
Smoooooth dark chocolate
Oct 1, 2023 | Posted By Kat Turczyn from Burnsville, NC United States
This chocolate is different than many others because of its exceptional smooth consistency.
Great service, great products, great cause
Feb 28, 2022 | Posted By Kathleen Arcuri from Benton, PA United States
The chocolate is simply delicious. We also gifted cases for Valentine's Day, and everyone raved.. so good, too, to know that the actual Ghanaian cocoa farmers reap the benefit of sales.
Best chocolate ever
Apr 12, 2021 | Posted By Charleen Bertolini from Hendersonville , NC United States
I bought for my husband's birthday and he was thrilled. Truly thought it was the best chocolate he's ever had!
A real treat
Dec 26, 2020 | Posted By Jack from Warminster , PA United States
This is a perfect dark chocolate. Just a small piece is a terrific after dinner treat
Chocolate Bar
Dec 3, 2020 | Posted By Linda Wright from HUNTINGTON, NY United States
These are awesome. They make wonderful little gifts that are well-received
Great Goods!
May 2, 2020 | Posted By Frances Riddle from Dover, DE United States
We love this chocolate. The ordering process was easy, the delivery prompt, and product as advertised. Thanks, SERRV!