View Product Reviews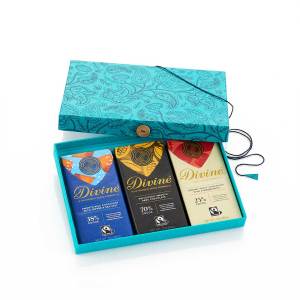 delightful
Jun 15, 2023 | Posted By TERESA CABANSKI from CONIFER, CO United States
I have ordered this more than once and will do so again!
Perfect gift
Apr 5, 2022 | Posted By Coline from Los Angeles, CA United States
Very good chocolates, flavors for all tastes, presentation done with care, perfect for a gift.
Divine Fair Trade Chocolate Sellers Gift Box
Feb 8, 2022 | Posted By Jean Marie Naples from Suffern., NY United States
I purchased this Divine chocolate product which is Fair Trade chocolate that is produced from cocoa beans that are grown and harvested by the Kuapa Kokoo Cooperative farmers whose farms are found in the Kumasi rainforest in Ghana. This chocolate was purchased for myself and for my family of friends in Tema, Ghana. The product is delicious and I am saving the major portion of these products for my friends in Ghana. I hope for the end of the COVID-19 pandemic and the ability to return to Ghana later this year. I will give this Fair Trade chocolate to my family friends in Ghana. Thank you for offering this product to purchase, enjoy and provide support for the Kuapa Kokoo cooperative farmers in Ghana.
Divine Top Sellers Gift Box
Dec 30, 2021 | Posted By Beth Martinson from Kettering, OH United States
all delicious...loved the wrapped gift box...my husband was thrilled with the gift
Great work
Dec 9, 2021 | Posted By Carole Hedlund from Shskoper, MN United States
Divine Top Sellers Gift Box
Jan 11, 2021 | Posted By Rhona Crail from Highland, IL United States
I have purchased Divine chocolates multiple times and it is always top quality and delicious!
They r gifts
Dec 21, 2020 | Posted By Laura from Austin, TX United States
Boxes are lovely but cannot review chocolate as they are gifts
Divine Top Sellers Gift box
Nov 25, 2020 | Posted By Delores from OSAGE, IA United States
All six bars are different flavor and delicious. It comes boxed beautifully for gift giving, we chose to keep them for ourselves this time. Very quick delivery time.
What's Not to Love?
Oct 23, 2020 | Posted By Lynn Brown from Houston , TX United States
Yummy- buy these chocolate bars all the time! The gift set is very attractive and went on line to buy another set. Unfortunately it was sold out. Enough said!
Delicious
May 27, 2020 | Posted By Cait McCarthy from Milton, MA United States
Bought this package for Father's Day