View Product Reviews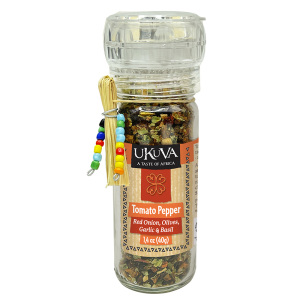 Kitchen essential!
Oct 26, 2023 | Posted By Laura Peebles from Arlington, VA United States
Bought this for myself, loved it. Bought several for my family. At our last get-together, I got some hints that "I wouldn't mind finding that in my stocking" so I'm saying it's been a hit all around. Definitely use on scrambled eggs and sauteed veggies.
tomato pepper spice
Aug 23, 2023 | Posted By Jen E. from Lawai, HI United States
this is my ultimate, favorite spice!! I especially love it on eggs, to me doesn't matter how you decide to cook your eggs, it's just that awesome!! love it on meats and fish too, but again, doesn't matter, it's just an all around flavorful spice. I rely on spices that have salts in them already, cause to me, it makes the spice blends more authentic. Try it, I bet you'll love it too!!!
Great salt-free spices to add flavors to so much
Oct 22, 2022 | Posted By Michael Huck from Naperville, IL United States
This is a tasty, salt-free seasoning that is delicious on just about anything. I put it on eggs, pizza, buttered toast, and savory dishes.
Tomato Pepper All Purpose Seasoning
Oct 1, 2022 | Posted By Jeff Gibson from De Pere, WI United States
If you want great flavor use this product as a substitute for pepper. Great on nearly everything!
Delicious
Feb 14, 2022 | Posted By Laura L Sturdevant from Portland, OR United States
This is the best pasta seasoning I've ever had. I fried up some rBST-free ravioli, topped with shredded parmesan and lots of this. Couldn't be easier and it was beyond delicious. We'll definitely be buying more.
tasty
Mar 16, 2021 | Posted By Julie Moylan from Troy, MI United States
I don't taste the tomato much, but it's tasty nonetheless. Not salty or too peppery. Like the built in grinder also.
Yum
Feb 17, 2021 | Posted By C from CLINTON, PA United States
These are consistently tasty, enjoy each flavor