View Product Reviews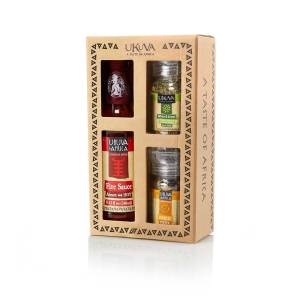 Taste of South Africa Gift Set
Jun 29, 2023 | Posted By Ann F Smitt from INKSTER, MI United States
My son in law loves to use African Paprika when he barbecues so I gifted him the Taste of South Africa Gift Set for Father's Day. He LOVES it too. He's trying all the spices and sauces in different dishes, experimenting with flavors. A great gift for the cook in your life.
Love the heat
Jan 10, 2023 | Posted By Virginia M KONZ from Seneca Falls, NY United States
My son and son-in-law are both big fans of the heat in these items I order from you that come from African countries. Thanks for providing this opportunity to purchase such items.
Spicy hot!
Jun 27, 2020 | Posted By Barbara from Brooklyn, NY United States
My family loves hot sauce & spices, so this was a great chance to try something new! They loved it. Lots of heat with a different texture than US brand hot sauce. Great on grilled chicken & beef. Plan to try some of the others!