View Product Reviews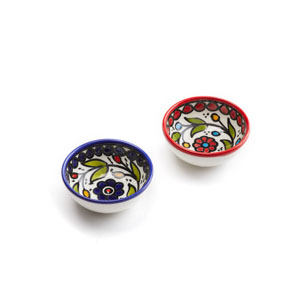 Delightful Combination
Apr 28, 2023 | Posted By Patricia Kingsley from Stafford, VA United States
These dipping bowls are a wonderful combination of design, color, and quality.
Beautiful!
Jul 10, 2021 | Posted By Sherine Tully from Seattle, WA United States
I ordered these bowls for my husband on Father's Day. He loves them! They are beautiful and bring such joy every time we use them. Thank you for offering them!
So cute!
Feb 12, 2021 | Posted By Nina Hiatt from Delta, CO United States
I like to use these for little snacks for myself, like nuts or dark chocolate. They will also be great for dipping bread in olive oil They just make you smile!
Love these
Dec 24, 2020 | Posted By Vjones from Tampa, FL United States
2nd time I have bought these. Great for little things like olive oils dips or butter. So colorful, and still look great after heavy use
difficult religious aunt
Dec 21, 2019 | Posted By Teresa Fleener from Grapeview, WA United States
Thank you for the beautiful dipping bowls. My aunt is biased, consumed with religious issues. Your beautiful dipping bowls to use to eat as did the ancient prophets was a great, tactful and artful gift idea. That they are from the Holy Land will hopefully allow her to appreciate your beautiful art.