View Product Reviews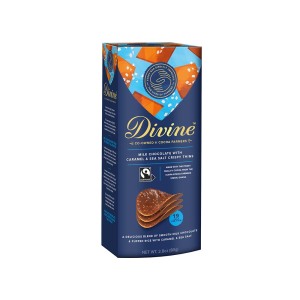 Divine Caramel Chips boxes
Feb 8, 2022 | Posted By Jean Marie Naples from Suffern., NY United States
I purchased this Divine chocolate product which is Fair Trade chocolate that is produced from cocoa beans that are grown and harvested by the Kuapa Kokoo Cooperative farmers whose farms are found in the Kumasi rainforest in Ghana. This chocolate was purchased for myself and for my family of friends in Tema, Ghana. The product is delicious and I am saving the major portion of these products for my friends in Ghana. I hope for the end of the COVID-19 pandemic and the ability to return to Ghana later this year. I will give this Fair Trade chocolate to my family friends in Ghana. Thank you for offering this product to purchase, enjoy and provide support for the Kuapa Kokoo cooperative farmers in Ghana.
Delicious but fragile
Dec 20, 2021 | Posted By Bonnie Ware from Omaha, NE United States
The taste is quite wonderful. But, I have ordered them twice and both times they have arrived with the majority broken into several pieces. I hope you will be able to improve the packing/shipping methods.
Divine Caramel Chips
Nov 29, 2020 | Posted By C. S. from SAMMAMISH, WA United States
They were tasty but through the mailing process they were broken up into pieces.
Arrived completely melted
Nov 5, 2020 | Posted By Geri Allison from Kailua-Kona, HI United States
I received two chocolate blobs which I was not able to enjoy.
We're sorry to hear that your Caramel Chips melted. Divine is all-natural so will melt at temperatures above 80 degrees and we don't have a way to use coolers for non-contiguous states. We'll contact you directly to resolve this.
Too Good
Nov 3, 2020 | Posted By Joni Cordell from Tensed, ID United States
These were so good that I ate them all myself. I am not even ashamed.
Amazing! Delicious!
Nov 2, 2020 | Posted By Tamar Raine from Oakland, CA United States
like the shape and that's a perfect blend of chocolate & hazelnut - very smooth. definitely reorder