View Product Reviews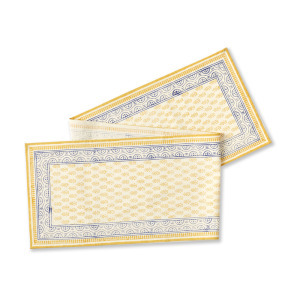 Bright and excellent quality
Jul 17, 2023 | Posted By Crystal from Leesburg, VA United States
This table runner is so bright and cheerful! I love the pop of color it adds to our dining room. The quality of construction is excellent and sturdy. I look forward to using it when hosting!
Exactly What I Was Looking For!
Jul 14, 2023 | Posted By Asta Edlin from Lubbock , TX United States
After reviewing several others options on other websites, I settled on this table runner to be used for a difficult-sized dressing table. I've ordered from Serrv a lot before, so knew the quality of product I would be getting. I was surprised that this table runner completely exceeded my expectations! The fabric is a quality cotton with bright colors, and the product is very well made. I love it, and it's exactly what I've been searching for.
Very Pretty
Mar 19, 2022 | Posted By Marline Pallais from Escondido, CA United States
This is a very cheery table runner. It requires ironing and I'd hoped it wouldn't but otherwise I like it very much.