View Product Reviews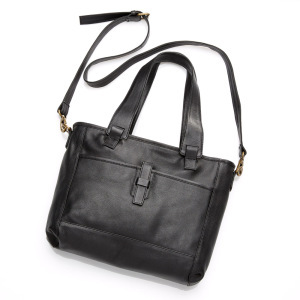 Elegant and functional
Feb 2, 2022 | Posted By Laura from Roslindale, MA United States
I have been looking for a bag in which I can carry my laptop, but that does not look too much like a briefcase. This is it! It serves both business and personal functions quite nicely. The carftsmanship is superb. The interior lining is a lovely black and white print of poppies -- attractive, and light enough to be able to see what's in there. Super happy with my purchase. It will last for many years, I'm sure.
Very satisfied
Nov 16, 2020 | Posted By Teriann Asami-Oki from Pinole, CA United States
II haven't had this purse very long yet, so I can't comment on the durability. I love the extra pockets on the outside and the lighter lining inside makes it much easier to find things. I'm very happy with this purse. Thank you.
Excellent product
Mar 29, 2020 | Posted By George C. Tarr from Jefferson, MD United States
Well-made, good styling, nice materials. My wife loves it.