View Product Reviews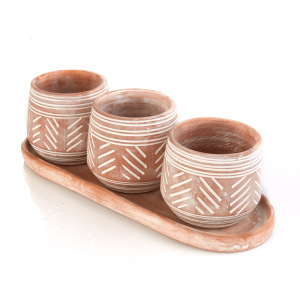 Nice-looking
Sep 16, 2022 | Posted By Karen Thompson from North Huntingdon, PA United States
Bought this as an upcoming Christmas present for my 22-yr. old daughter, who is starting to show an interest in plants. I think it can "work" with multiple decors.
Larger than expected
Apr 24, 2022 | Posted By Missy3651 from Baltimore , MD United States
These pots are really well made and beautiful. Bonus was that they were larger than I had expected them to be. They were packaged really well and arrived to me in perfect condition. I definitely recommend!
Beautiful planter
Jan 28, 2021 | Posted By chitra from palo alto, CA United States
Looks pretty and well packed and impressive
nice!
May 12, 2020 | Posted By Susan M Lenort from Longmont, CO United States
love this! fits windowsill perfectly!
Beautiful
Apr 22, 2020 | Posted By Cynthia from Gig Harbor, WA United States
This beautiful set of clay pots, is perfect for our intended use. We thank the artist(s) for their wonderful work and design on our Novo clay planter set. We will be admiring it for years to come!
Beautiful Planter Set
Mar 17, 2020 | Posted By Debby McRoberts from Westerville, OH United States
This clay planter set is beautiful! The tray keeps things tidy without the need for individual saucers. I planted three small succulents in them and they look great! Another SERRV purchase that I truly feel good about. Thank you for offering quality products that are made by artisans, not mass produced in factories.