View Product Reviews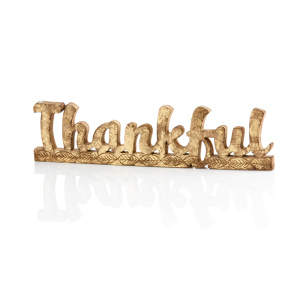 Gratitude goes a long way
Nov 1, 2020 | Posted By Stacie Chandler from North Adams, MA United States
This is lovely and well made. We have it over living room door frame.
Beautiful
Oct 30, 2020 | Posted By Trudy Landgren from Edina, MN United States
The T and l of the word Thankful had broken off during shipping, but I was able to glue them back on with a wood glue. It is a beautiful piece of work and I didn't want to send it back. It may need better packing in the future
Thank you for letting us know, and for repairing the item yourself.
Interesting rustic carving
Oct 21, 2020 | Posted By Vicki from Plainwell, MI United States
Thankful is my theme of life. So I love to look at it and remember to be thankful for everything God gives me every moment.