View Product Reviews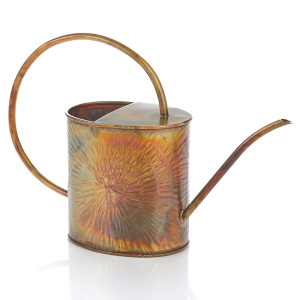 Perfect
Feb 5, 2023 | Posted By Kay from Fairmount , IN United States
I am so happy I found your site. My watering can is the right size for what I need. I have received many compliments from friends on the size and "beauty" of the watering can. Thank you!
Beautiful Unique gift
Jan 5, 2023 | Posted By Jennifer C O'Malley from Chicago, IL United States
This watering can is beautiful and unique as well as useful. It was the perfect gift!
BEST watering can I have ever had!
Dec 27, 2021 | Posted By Mary Lou Cox from Monterey, VA United States
I like the way this can is weighted and the way the water is so focused. And it is beautiful!
Lovely
Dec 16, 2021 | Posted By Carrie from Wexford, PA United States
This watering can is both functional and beautiful. I love the unique coppery finish, and the long, thin spout is perfect for watering my plants.
Watering can
Sep 27, 2021 | Posted By Jeanne from Ocala, FL United States
So pleased when I was contacted when this item became available again. The color and size is perfect and the firm visually pleasing
Watering can
Apr 7, 2021 | Posted By Eva S. from College Park , MD United States
Very nice and attractive where it lives near my living room plants. Doesn't leak. I like the way the round handle balances.
Functional, Pretty
Apr 5, 2021 | Posted By Claire from Baltimore, MD United States
I've found that this can works well and doesn't leak. I wouldn't fill it up to the very top, as sometimes it may come out the spout. But that's the case for other watering cans too. I think it's nice looking and the stamped look is very pretty. No rusting thus far and we've been using it for a while. It can also serve as a decoration. The coloring may not be consistent, but I don't find that to be a problem.
Beautiful Watering Can
Mar 24, 2021 | Posted By Barbara from El Cerrito, CA United States
I have never seen such a beautiful and well-made watering can--the embossed design and colorful patina are gorgeous. It makes me happy to water my plants! Please thank the artisan who made it.
Functional, but Leaky
Mar 6, 2021 | Posted By JUDY from WILLIAMSTOWN, KY United States
I like the spout and that it delivers smaller amounts of water in a fairly precise area. I have previously used a water pitcher and can't get in under leaves and near the edges of pot very easily. This delivers water exactly where you want. it. Unfortunately, the first time I used it, as I was watering I noticed water dripping off of the can. Turns out the top wasn't sealed completely so as I had to tip the can to use it, it leaked from the top seam. I will not return it, I just sealed it with some caulk on the inside, but for $32, you would expect a product that performs as expected.
We're sorry to hear this, and we'll be in touch to resolve this. We will also check our newest delivery of these watering cans for leakage.
Disappointing
Dec 14, 2020 | Posted By FRANCES POSEL from Bellingham, WA United States
I hate to write a negative review but the reality is the item couldn't be more different from the picture in the catalog. The item is 'squat', pudgy-looking, not elegant, and the coloring is dark brown and dull, not shiny. It was to be a gift but I won't bother.
We're sorry this item didn't meet your expectations. We'll contact you directly to resolve this and request a photo of the one you received so we can investigate further.
Watering can
Dec 6, 2020 | Posted By Yuko from Charleston, SC United States
The size, the color, the design are as expected. It's going to be a present for my husband who has one hundred paper cups inside home to grow vegetables from seeds. I don't know how it works yet. Please ask me again.
Beautiful can but...
Nov 1, 2020 | Posted By Susan Ottesen from Miles City, MT United States
Love the look and love the size! Wish the pour spout was a bit larger...but even more than that, I wish it held water. Leaks around the base and at the spout. Darn...
These are meant to be utilitarian, so we will contact you directly to resolve this. Thank you for letting us know so we could check our inventory (which are holding water, so unfortunately it sounds like yours wasn't properly sealed).