View Product Reviews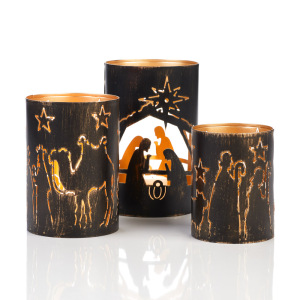 Nativity Story Lantern Set
Nov 14, 2023 | Posted By Pamela Flanery from Colorado Springs, CO United States
This three piece Nativity Story Lantern Set is absolutely beautiful! I ordered one for myself and then ordered a bunch for gifts. The website doesn't do it justice, these are such nice gifts!
Nativity Lanterns
Oct 29, 2023 | Posted By Paul Stephens from Oxford, AL United States
Beautiful Christmas gift!
Dec 2, 2022 | Posted By Julie Beal from Arivaca, AZ United States
It is a fine gift for loved ones who celebrate the Christmas holiday. Beautiful glow with other holiday decorations!
Unique Nativity
Mar 24, 2022 | Posted By AM from Traverse City, MI United States
A unique nativity that is perfect to keep out all year long to remember God and how He works in our lives! I try to shop only fair trade, and Serrv makes it easy! Thanks for helping others around the globe with this organization!!
Such a Unique Find
Dec 31, 2021 | Posted By Hannah Fallon from Parkville, MD United States
I bought these for myself last year (2020) to put in my room during Christmas time, and they're definitely one of the best finds I've ever bought!!! I put Dollar Store battery-powered tea lights in them, and they glow perfectly.
A perfect gift
Dec 29, 2021 | Posted By Heather M from TC, MI United States
I gifted three of these as Christmas gifts! My only suggestion is since they were gifts for family who is not knowledgeable about fair trade it would have been great having a pamphlet explaining what fair trade is, who the artist is, and how the purchase makes an impact. The receiver loved the gift, but I feel if they had more info they would have loved it more!
Makes a lovely centerpiece
Dec 13, 2021 | Posted By Lauren Novatne from Reedley, CA United States
This clever nativity is just as it's pictured. It is sturdy, well made and makes a lovely centerpiece on my dining room table.
Nativity Story Lanterns
Nov 26, 2021 | Posted By Kathy Crisler from MARIETTA, GA United States
Absolutely love the nativity lanterns! Great quality and look beautiful! Can't wait to put them out for Christmas. Thanks for such a lovely decoration showing why we celebrate Christmas! Love my free parrot ornament as well. Beautiful!.
Gorgeous candleholders
Dec 15, 2020 | Posted By Phyllis Maurer from Lincoln, NE United States
This trio of candleholders will be a permanent part of my Holiday decorations. Beautifully detailed, with the design visible from both sides. I just wish I had known sets of candles to fit the canisters were available in the stores, before I went looking for them.
Perfect on the mantle
Dec 10, 2020 | Posted By Joan S from Dallas, TX United States
The smaller two lanterns light beautifully with a battery tea light. Because so much is cut away in the largest lantern I use a wax looking battery candle that is just the right height to put the light at the level of the star and make a soft white backdrop for Mary and Joseph and manger. Very good quality work.
Nativity Story Lanterns
Nov 12, 2020 | Posted By Patricia A Bero from Wautoma, WI United States
I am looking forward to putting these out during the holidays. They stack very nicely for storage too!