View Product Reviews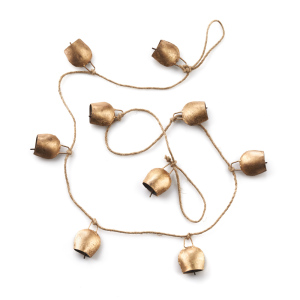 Beautiful
Oct 2, 2023 | Posted By Pattie Collins from San Diego, CA United States
I really wanted these bells when I saw them for my tree. They have a nice weight to them, and I love the tinkle sounds when I handled them taking them out the box.
Recyled Bell Garland
Dec 11, 2022 | Posted By Linda from Sussex, WI United States
I bought this for Christmas but will leave it out all year. The tone of the bells is jolly and fun. Love this!
Great
Jun 26, 2021 | Posted By Bryan from Peabody, MA United States
Fits perfect hanging across our mantel. My Nepali husband likes it too; reminds him of the bells around the farm animals at home.
Rustic Recycled Bells Garland
Nov 11, 2020 | Posted By JUDITH SHOOTER from DANVERS, MA United States
I love these bells. They are pretty and beautifully done and they have a wonderful sound. Right now they are hanging on my dining room light for Thanksgiving but will be moved to my mantel for Christmas and beyond. Very pleased.