View Product Reviews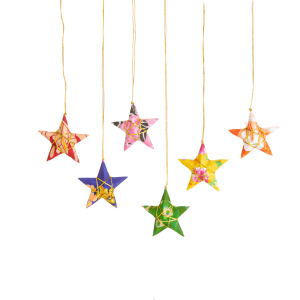 So pretty
Aug 18, 2023 | Posted By Cindy from Pensacola , FL United States
The star garland hangs all year- it's too pretty to only use at Christmas.
A winner!
Feb 7, 2023 | Posted By DM from West Chester, PA United States
This is the third time I've come back to buy more of these. They are lovely little items. Good quality. I've never been disappointed in any Serrv purchase.
Lovely!
Jan 4, 2022 | Posted By Carolyn B. from Baltimore, MD United States
These are lovely. We didn't put up a tree this year, so I used thin ribbon to hang these from a horizontal bamboos garden stake, perched over a large mirror in our dining room. I also purchased the paper stars, and they hang together.
Colorful, well-made
Jan 4, 2022 | Posted By Patricia from Eau Claire, WI United States
Very nice ornaments for the price.
Beautiful
Dec 22, 2021 | Posted By Christine S Harris from Canfield, OH United States
Beautiful as pictured. Perfect for present toppers or small gifts
Stars
Dec 4, 2021 | Posted By Sharon from Orange, CA United States
Colorful Well made Good value
Beautiful stars
Nov 17, 2021 | Posted By Renee Bryan from Nevada City, CA United States
I love that it made from saris. They are very colorful and give the tree a warm feeling.
Recycled sari star ornaments
Dec 27, 2020 | Posted By Merry Roy from Wenatchee, WA United States
Lovely sari colors in these well-made stars are a tribute to the creativity and ingenuity of the craftspeople who made them.
Simply lovely
Dec 11, 2020 | Posted By Karen Cardenas from Tulsa, OK United States
In recent years I've started putting a small ornament into my boxes of holiday candy. Last year it was bird ornaments from the National Wildlife Federation. This year it was recycled sari ornaments in the shape of stars. When they arrived, I couldn't believe how pretty they were. I may buy more and use them to decorate a small tree.
recycled sari star ornaments
Dec 4, 2020 | Posted By Amy Wayman from Kirkland, WA United States
beautiful....well made and unique!
Nicely finished
Nov 7, 2020 | Posted By Vickie from North Attleboro, MA United States
These small ornaments are beautifully made from recycled material. I will feel good about hanging them on our tree, for their charm and the future of peace on earth with organizations like SERRV.