View Product Reviews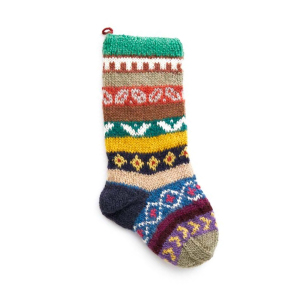 More Decorative Than Sturdy
Jan 1, 2023 | Posted By Susan from Albuquerque, NM United States
Stockings are loosely knit, more like a scarf than a sturdy stocking. Any heavy items like tangerines, ornaments, chocolates etc.,. will stretch out the sock. I ordered two stockings and they were dominantly blue, grey and brown in color. No reds or bright colors. Very subdued. I understand that the stockings will all vary depending on the remnant available but these were quite dark. These are still lovely stockings but for light items only.
BEAUTIFUL stockings!
Dec 20, 2022 | Posted By Terry Morgan from Orlando, FL United States
We are so pleased. I wanted something quality, with meaning, sustainable, and fair trade. These stockings fill all the categories! They are so unique and striking. I've gotten compliments already, and I'm excited to share that they come from artisans in Nepal. They have given me much joy already, and I expect to treasure them for years.
Nepali Patterned Stockings
Jan 2, 2022 | Posted By Mary Van Vleck from Charlotte, VT United States
I purchased two stockings for Christmas eve and am very pleased with them, They were just the right size to hold little treasures from Santa without being too big. I love supporting Nepali knitters in this way! and this is a superb way to use up yarn remnants. Each stocking is different, allowing each knitter to create whatever design she wishes. It could have been more tightly (firmly) knit, but for a Christmas stocking it is fine!
Excellent stocking
Dec 17, 2021 | Posted By Lisa from Columbus , AL United States
I have been looking for a handmade stockings but they were all really expensive. This one didn't cost too much but looks as expensive as other ones. It's perfect!
Wonderful!
Dec 5, 2021 | Posted By Carolyn Johnson from Allentown, PA United States
What a unique stocking! Very well made, very colorful and I love the fact that it looks like a giant version of warm socks!
Gorgeous!
Nov 27, 2021 | Posted By Abby Rojas from El Cajon, CA United States
These are so beautiful! I ordered two and am ordering another. Love them so much!!!
Lovely
Mar 23, 2021 | Posted By Darlene from Kailua, HI United States
I got this as a gift for my friend who was in the Peace corps and had to return early due to covid19. She was so disappointed to leave early. She said this was her favorite Christmas gift!