View Product Reviews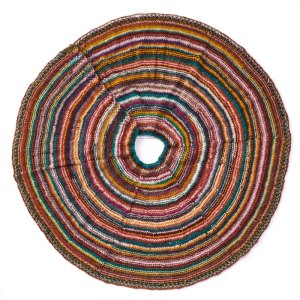 Very Disappointed
Dec 6, 2021 | Posted By Michelle from Columbus, OH United States
I wish I could attach a picture. While I knew the colors would vary I did not expect it to look absolutely nothing like the example. The main colors are dark purple, yellow and black and nothing about it looks Christmasy. It is also very loosely knitted and you can see right through it the stitches are so loose. I am definitely returning it, for the price is it not good quality and the colors are very unattractive.
We're sorry to hear that. Thank you for letting us know.
Nepali Tree Skirt
Jan 25, 2021 | Posted By Beth Williams from Danville, VT United States
I did not expect a knitted product and am somewhat disappointed. with the quality for the $88.00 paid. Just an FYI. I love what you do and will continue to support SERRV.
Lovely (different colors though)
Dec 28, 2020 | Posted By Ashton from The Colony, TX United States
This skirt came and it's large and soft--it's wonderful. It is not really the colors pictured, but that makes sense once I realized the "remnant" part of the title must mean they use whatever's on hand.