View Product Reviews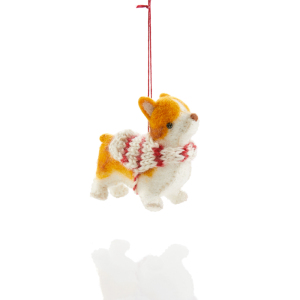 Dog ornaments
Oct 1, 2023 | Posted By K Dehen from Springfield, IL United States
This is the second year I have bought animal ornaments. They are so cute! Can't wait to see what breeds are offered next year.
Adorable
Dec 5, 2022 | Posted By Caryn Haas from Beaver Dam, WI United States
My girlfriend loved it. I got it for her birthday, she loves Corgis but cannot have a real one!
Perfect
Dec 22, 2021 | Posted By Christine S Harris from Canfield, OH United States
So cute. As pictured. Perfect
Nice ornament
Dec 1, 2021 | Posted By Liz from Pickett, WI United States
I ordered two of these ornaments for a friend. I got one that's this corgi, but the other was a different dog. I was very disappointed. My friend has two corgis and I wanted to give her two ornaments. Otherwise, they are nice.
Adorable!!
Dec 22, 2020 | Posted By Laurie Satmaria from Succasunna , NJ United States
This is the cutest corgi ornament!! I will be ordering another and I will be leaving it out all year! Excellent quality! Very well made!
Cute Corgi
Nov 28, 2020 | Posted By Margaret Kern from PITTSBURGH, PA United States
This Corgi ornament is adorable. It is very well made. I bought one for myself and one for my sister who has two Corgi dogs, She was delighted. I would recommend this.
Just as adorable as you think!
Nov 11, 2020 | Posted By Kate Lucchese from Emeryville, CA United States
This little Corgi with his red-and-white sweater is just the size and cuteness you thought it would be. Sweet!
Corgi lovers, this is for you!
Nov 8, 2020 | Posted By Eileen Riley from SEATTLE, WA United States
I bought this as a gift for a Corgi lover, and I am very pleased because it looks exactly as it is shown. That sounds simple, but what you see is not always what you get. A very cute little Corgi that could probably sneak off the tree and into your home to stick around after the holidays.