View Product Reviews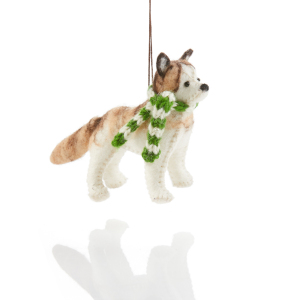 Wonderful Memories
Nov 20, 2023 | Posted By Frances from Colts Neck, NJ United States
My beautiful Siberian husky recently died, and this item will have a place of honor on my tree
We're sorry for your loss, and appreciate this ornament is meaningful for you.
Huskie love
Oct 5, 2022 | Posted By Brenda Moon from Auburn , AL United States
Nicely made. I am happy with it.
cute
Dec 22, 2021 | Posted By Christine S Harris from Canfield, OH United States
Very pleased indeed !
Jan 24, 2021 | Posted By Donna Pezik from Pittstown, NJ United States
Very well packaged, came on time and well made. So very adorable and realistic. Great size. A child would really enjoy this very cute ornament.
Great Husky!
Dec 28, 2020 | Posted By Carolyn Abels from Kansas City, MO United States
I purchased this ornament for a gift to my niece who owns a husky. She will love it. It is very well made!
Mrs.
Nov 2, 2020 | Posted By Donna Gribben from Christiansburg, VA United States
I am usually pleased with the felted ornaments I have ordered in the past, but the felted husky I received does not look anything like any husky I've ever seen. I was disappointed.