View Product Reviews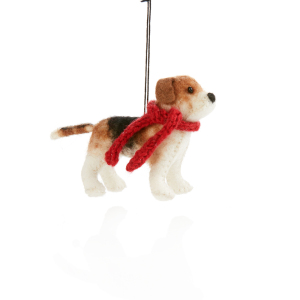 Cute ornament
Dec 1, 2021 | Posted By Gail from Bedford, MA United States
We love beagles and sometimes get to care for one when our friend with a Beagle go on vacation. I've not yet decided if we will keep it or give it to them as a gift. Maybe I should have gotten 2?
Very pleased indeed !
Jan 24, 2021 | Posted By Donna Pezik from PITTSTOWN, NJ United States
Very well packaged, came on time and well made. So very adorable and realistic. Great size. A child would really enjoy this very cute ornament.
Has not yet arrived
Dec 26, 2020 | Posted By Karen DeCostanza from Milford, CT United States
Bought as a Christmas gift. Had to give picture of it instead.
Cute Beagle
Dec 20, 2020 | Posted By Deborah from RioRico, AZ United States
Perfect for beagle owners
Beagle ornament
Dec 5, 2020 | Posted By Joanne I Marugg from Alpine, CA United States
Cute, well made and a perfect sized ornament
Beagle ornament
Nov 19, 2020 | Posted By Lorraine A De Armitt from Riverhead, NY - , NY United States
I got this as a little gift for my granddaughter, who has a beagle. It is very cute, and just what I was looking for.
Cute Ornament !
Nov 18, 2020 | Posted By ilona from San Francisco, CA United States
This was a present, but the recipient was very happy about the ornament, especially since the little dog ornament resembled the pet. The ornament is very well done.
beagle tree ornament
Nov 15, 2020 | Posted By Nancy Boerger from Presque Isle, MI United States