View Product Reviews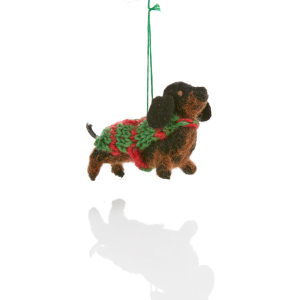 Cute Christmas Gift
Nov 24, 2023 | Posted By Abigail Richmond from Port Orchard, WA United States
Adorable little doggy, perfect for someone who has or loves dachshunds. The design isn't 100% my style but for someone who loves this style I would give it five stars.
dacshund rave
Dec 31, 2022 | Posted By Suzanne Rudalevige from Cape Elizabeth, ME United States
Just the right ornament for the occasion.
Felted Dachshund
Dec 22, 2022 | Posted By Debbie from Redding , CT United States
Very cute, well made. Can't wait to give it to my niece!
My girl
Oct 5, 2022 | Posted By Brenda Moon from Auburn, AL United States
Lost my little doxie. Will miss her forever. This is a high quality ornament and i am very pleased with it.
Perfect gift
Dec 2, 2021 | Posted By Karen Mills from Newton, NC United States
I have a friend with a new dachshund puppy and I can't wait for her to get this ornament. It is so realistic!
Adorable!
Feb 8, 2021 | Posted By Elaine from Niles, MI United States
My daughter loves Dachshunds and this is even cuter in person than in the picture--perfect for her!
Adorable-we have dachshunds at home
Jan 19, 2021 | Posted By Michelle Coster from Milford, CT United States
I am so glad I made this purchase. I love all of the things I bought and look forward to next season ( and in between) to see what is available
A delightful tree ornament
Dec 31, 2020 | Posted By Elida D Wilson from Olympia, WA United States
I sent him to my sister's family in England and he was promptly installed on their Christmas tree. They have a dog of similar color but a bit bigger.
adorable doxi
Nov 25, 2020 | Posted By Tracy Weeks from Yarmouth Port, MA United States
This was such a cute new gift and my doxi loving friend will just love it.
Not the best
Nov 20, 2020 | Posted By Lisa F Dove from Valrico, FL United States
I have purchased some of the other bird ornaments like this and they are really cute. But this dachshund is hard to make out. It looks like a dark lump of something with a festive sweater on. Sorry...
So darn cute!
Nov 13, 2020 | Posted By Vicki C Pfeifer from Lynnwood, WA United States
I am shopping on line for Christmas this year. I saw this in a catalog & it is perfect for a friend of mine who has Dachshunds! He is just adorable!