View Product Reviews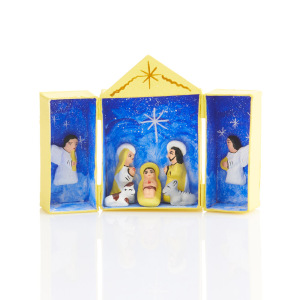 Small packages
Nov 30, 2022 | Posted By Nancy Spriggs from Mount Airy, MD United States
I was pleasantly surprised by the Matchbox Nativity. It is so sweet and well made for such a small display. I think it would be a great gift for someone who has serious space limitations.
Perfect!
Dec 17, 2020 | Posted By Gina from Okinawa, AP United States
I love the sweet nativity! The craftsmanship of the tiny pieces is beautiful.
We love it!
Nov 20, 2020 | Posted By Janice from Atlanta, GA United States
Our family LOVES this beautiful and amazing mini-Nativity scene. As with all of SERRV's merchandise, it is high quality. It is such a blessing to know that our purchase helps someone to make al living for their family. Thank, SERRV, for all you do and offer.
beautiful, but damaged
Oct 28, 2020 | Posted By Madelyn Mathias from Stuart, FL United States
I was sad to receive this sweet and lovely Nativity matchbox scene as it was damaged when i got it. I wanted to give as a gift but could not. It was the first thing I ever received from Serrv that was damaged. Such beautiful items are made by the hardworking people who belong to the Serrv organization!
We're sorry to hear that, and glad we could make amends.