View Product Reviews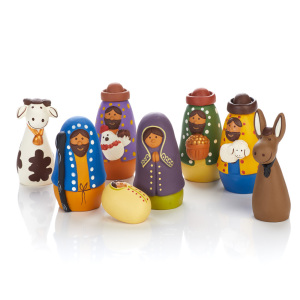 Adorable
Jan 17, 2023 | Posted By Jeanne Anthony from Suffield, CT United States
Love this cute little nativity set. The figurines are so nicely done. Am considering leaving it out all year.
Cutest Nativity Set Ever!
Nov 7, 2022 | Posted By Lynda Fortier from Severance, CO United States
These pieces are a perfect gift for folks who live in the southwest of the U.S. Well made and painted. Quite small but I'm sending them to a family in New Mexico with small children and I think the kids will be delighted. Worth the price!
better than I expected
Dec 20, 2021 | Posted By Julie Marlin from Avon Lake, OH United States
I ordered 2 sets one to give as a gift and the other for my first through 3rd grade Sunday School class to handle and arrange. They arrived, and the donkey in one set was broken -- packed too tightly in a small box. I glued it and used that set with my class. With the children handling these things rather roughly, nothing more was broken. They are beautiful, and much better than I expected for these school aged children to touch and handle safely.
purchaser/collector
Nov 16, 2021 | Posted By Ed Thurston from Gilbert, AZ United States
Excellent quality and prompt secure shipping