View Product Reviews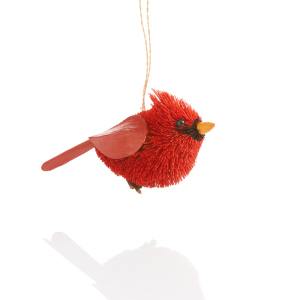 Best Cardinal Ornaments Ever!
Jan 5, 2023 | Posted By Sheila from Wirtz, VA United States
I bought some last year. And, I bought more this year to have more on a larger size tree. They are just too cute. Well made. Super quality. They are not fragile.
lovely
Jan 8, 2022 | Posted By Anne from Mount Laurel, NJ United States
Beautiful, well made and interesting. Very clever use of plant parts. I got it for my daughter and cut out the description from the catalog and attached it to the tag, so she can appreciate it more..
Love These
Dec 13, 2021 | Posted By Sheila from Wirtz, Virginia, VA United States
Wish we could post photos, because these ornaments are just wonderful. They just pop on the Christmas tree. And, the bodies are seed pods of the palm, the wings leaves off a plant and the tail the bark off the palm plant. I love the long long string so these hang nicely, even if your tree has long needles.
Fabulous Ornaments
Nov 20, 2021 | Posted By ShoppingDiva from Somewhere, VA United States
The cardinal is the state bird of Virginia. I've been wanting a cardinal ornament since moving here, but I could never find one that quite expressed what the bird was. Then I saw these ornaments, and WOW! They are terrific. Lots of personality and they POP ! They will show up on your Christmas tree. They are also not fragile but pretty durable and come with a nice long golden thread. BTW, these are not made from the spines of the palm as stated. These are made from the "Seed Pods" of the Buri Palm as the main body. And those prickly strands are tough and strong. So they won't break off. These are not fragile ornaments. I'd hate to step on one of those seed pods in bare feet., however. I loved these so much, I just bought some more.
Wonderful Ornaments
Dec 28, 2020 | Posted By Carolyn Abels from Kansas City, MO United States
These ornaments are well made and very cute. Love them.
I like him!
Nov 20, 2020 | Posted By Lisa F Dove from Valrico, FL United States
I'm a cardinal lover so of coarse I'm gonna like this one. He looks exactly like the picture and will fit right in with the other cardinals on my tree. Thank you