View Product Reviews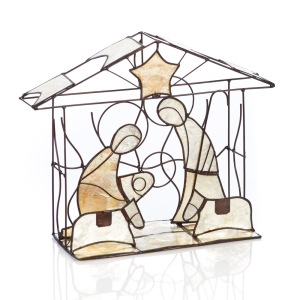 Lovely!
Dec 4, 2023 | Posted By Susan Rice from Logan, UT United States
I think this is so much prettier in person than online. I am so glad I ordered it!
Nativity gifts
Oct 29, 2023 | Posted By Paul Stephens from Oxford, AL United States
Very pretty. Great quality. Will make wonderful gifts.
Capiz Nativity
Jan 2, 2023 | Posted By Catherine Roberts from Manitowoc, WI United States
Really love this Capiz Nativity. I like the two toned colors and it looks great on the shelf in my bathroom. If you like Capiz, you will love this nativity.
Delicate Creche
Oct 18, 2020 | Posted By Rosemarie Pace from Middle Village, NY United States
I just added this beautiful, delicate Nativity piece from the Philippines to my collection of international Nativity scenes. It's perfect if you need something small and light, yet lovely. One piece, easy to display, and easy to store. It's also reasonably priced. Highly recommended.
Stunning Nativity
Oct 7, 2020 | Posted By Andrea from Milford, MI United States
This nativity is so beautiful. It is delicate and intricate. The craftsmanship is very well done. This will be an heirloom. Thank you for creating this piece!