View Product Reviews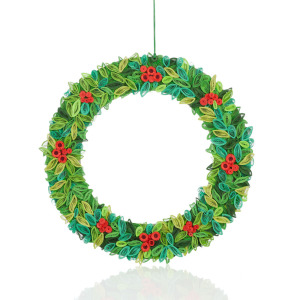 Quilled Paper Holly Wreaths
Feb 2, 2022 | Posted By Anne Votaw from Cincinnati, OH United States
I bought two wreaths, one for each side of the fireplace. They were the perfect size and just lovely. I will save to use in years to come.
Absolutely stunning
Jan 22, 2022 | Posted By Beth from Monona, WI United States
I love everything about this wreath and cannot imagine how long it took to roll all of the paper by hand. The colors are beautiful and the quality exceeds all expectations. These would make excellent gifts!
Pretty and Festive
Dec 5, 2021 | Posted By Karen from Peekskill , NY United States
Intricate paperwork, very lovely and a good size. I'm going to frame mine to protect it. Recommend highly.
Christmas Wreath
Oct 24, 2021 | Posted By Suzanne Lynwood from Santa Rosa , CA United States
Beautiful paper Christmas wreath. Purchased for a friend for Christmas. She will love it! Very well made, nice bright colors.
Quill Christmas Wreath
Jan 22, 2021 | Posted By Gloria from Southbridge, MA United States
This wreath is beautiful and. I am just amazed what can be done with paper.
paper Green wreath
Dec 2, 2020 | Posted By Barbara Schevers from Oneida, WI United States
Such a lovely festive wreath that is so light in weight and appearance,
Very attractive
Nov 18, 2020 | Posted By G L from Guttenberg, IA United States
I wanted wreaths for inside doors that would be lighter and smaller than a pine wreath to block less light through the windows in daytime. It is a little too early to hang them now but I think they are going to be exactly what I was looking for.