View Product Reviews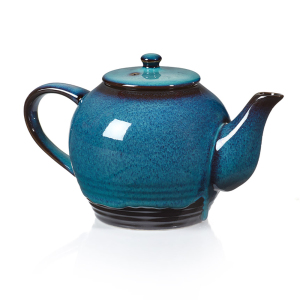 Beautiful and Functional!
Oct 5, 2022 | Posted By Catherine from Ogden, UT United States
This teapot is absolutely stunning in color. I can serve 3 large (11oz) cups of tea or 4 small-medium (8oz) cups with a full pot and it pours beautifully. The only time it seems to dribble a little is when the teapot is completely full, but even then it's not bad at all, and I'm very impressed with the pour. The strainer/infuser (not pictured) is ceramic with holes in it. It works well, although if you are using loose leaf, it does seem to let some of the smaller leaves through, so you may want to use teabags or a mesh infuser. However, the infuser combined with a secondary set of straining holes at the base of the spout prevents almost all tea leaves from making it into my teacup. I received the matching baking dish as a wedding gift and it is equally stunning. They both dress up the table beautifully and I would highly recommend!
Broken
Dec 24, 2021 | Posted By Carol Anne Hogan from Palmer Lake, CO United States
The color was beautiful but the inside rim was broken off.
Thank you for letting us know, we'll contact you directly to resolve this.
beautiful and functional
Oct 10, 2020 | Posted By Vivian from Galt, CA United States
This teapot is beautiful and well made. I leave the tea leaves in the infuser and refill the pot over and over. all day long.