View Product Reviews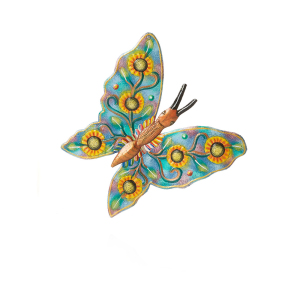 Butterfly Wall Art - bring a smile to you
Jun 15, 2023 | Posted By Sharon Brauer from Lisle, IL United States
These cute butterflies are a nice addition to the Soley Sun. I have them hanging on my fence and together, with the sunflower stakes in the ground, it looks like a heavenly place for the butterflies. Well made, colorful - a fun item to have.
Careful painting and crafting
May 9, 2023 | Posted By Renee Nunamaker from Pullman, WA United States
I got two of these and really like them. They are very well painted and finished. My only struggle was that they hang from the same wing and I wanted them to face each other where I displayed them. I was able to make this work with a descreet nail stratigically placed to push the other wing over a little.
Beautiful Metal Art
Jun 29, 2021 | Posted By Wanda Kirkpatrick from Mobile, AL United States
Vivid colors, well-crafted. Looks lovely in a grouping on my breezeway
butterfly
Jun 18, 2021 | Posted By Gerritt and Elizabeth Baker-Smith from Portsmouth, VA United States