View Product Reviews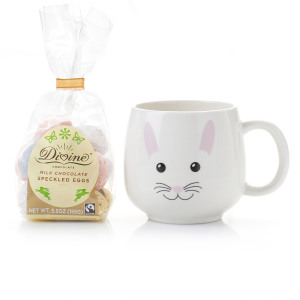 Delightful
Apr 20, 2023 | Posted By Kathy Heffernan from Missoula, MT United States
This was an Easter present for my college-aged daughter and she was delighted.
Bunny Mug and Chocolate
Mar 13, 2023 | Posted By Susan from Austin, TX United States
Haven't tried the chocolate but love the mug!
Bunny mug
Apr 15, 2022 | Posted By Merry Roy from Wenatchee, WA United States
incredibly cute! And arrived in good condition.
Buy the two items individually for a better price
Mar 5, 2022 | Posted By KB from Salem, OR United States
Buy the mug and the chocolate separately from this same vendor and pay several dollars less and pick the kind of chocolate you think will sell to a child over the dark offered. Both are good products, but a much better deal to buy each product individually.
The set is about a dollar less than buying them individually. We had to substitute different chocolate eggs for a while due to inventory issues (and showed this online), but happily have the Speckled Eggs in now. Thank you!