View Product Reviews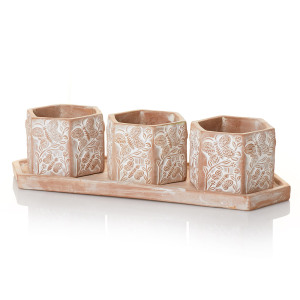 Basanta Meadow Planters
Jun 15, 2022 | Posted By Wendy Pfundtner from Clintonville, WI United States
I love the design on this beautiful ceramic set of three!
Attractive & Practical
Oct 25, 2021 | Posted By Nancy McDonald from Grand Marais, MI United States
These planters are great and just what I wanted. I needed something for seedlings of small succulents to grow as houseplants, and these work perfectly. They're arrived in great shape, due to sensible packaging. They look nice. Recommended.
Great herb planters!
Mar 29, 2021 | Posted By Marlene Duff from Hampstead , MD United States
I'm always buying basil, cilantro and parsley at the grocery store, only to have it go bad in the plastic containers before using it all. I can't wait to start my own herb plants in this beautiful planter set!
Pretty Butterfly Planters
Mar 26, 2021 | Posted By Christi Sutphin from Ellensburg, WA United States
These planters are very pretty. We already have the elephant planter, which we really like, and couldn't resist a similar pottery with butterflies. It's too cold to plant anything outside yet, so I don't know how well plants will do in them as they are very small. But they are pretty!
perfect for herbs
Mar 6, 2021 | Posted By Danielle from Madison, WI United States
I'm looking forward to filling these little pots with parsley, chives, and basil to have handy in our kitchen.