View Product Reviews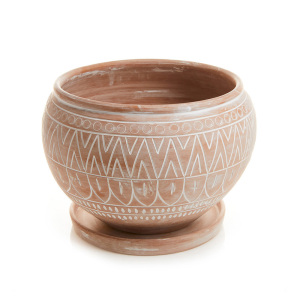 Medium and small globe planters with saucers
Mar 18, 2021 | Posted By Martha from Parma, OH United States
Several of these globe planters started to peel and discolor and blister especially and always on the outside and toward the bottom of the planter. I assume it's from the moisture and maybe the fertilizer too. I had to empty them and discard them. I was hoping I could reuse these planters again but they were disintegrating and messy on the outside. Perhaps if a clear coat of glaze was placed over the pottery it might have prevented this or extended the life of these expensive stone pots. For the price I paid for these I would at least expect a couple of years of use.
The Perfect Pot
Mar 18, 2021 | Posted By Rose Marino from Franklin, MA United States
My Avacado plant needed a bigger planter. The one I bought from you is great and it is so beautiful. Thank you so much!