View Product Reviews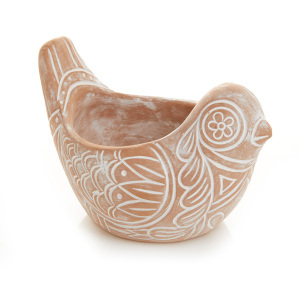 Very good quality planter
Apr 14, 2022 | Posted By Jane Carlson from Westlake, OH United States
This breakable item was wrapped so well and so professionally, I could hardly believe it. It was in perfect condition - is a very nice looking planter and I am perfectly satisfied!
Sturdy Bird
Jun 18, 2021 | Posted By Amy Heinrich from New York, NY United States
I bought this as a present, which I filled with a plant from my garden. The gift was received with delight, and I enjoyed it while I had it. It feels like it belongs with growing things.
Pretty for the porch
Mar 22, 2021 | Posted By Claudia from Portland, OR United States
I purchased this planter for a friends' birthday. I still haven't given it to her but will soon. I like it so much I will be getting one for myself too!
Large Bird Planter
Mar 22, 2021 | Posted By Kate Manns from Tucson, AZ United States