View Product Reviews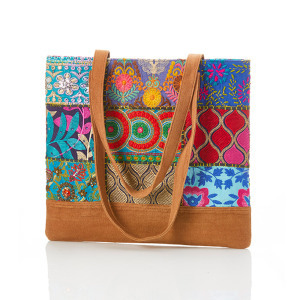 Marvelous!
Dec 4, 2023 | Posted By Barbara from San Diego, CA United States
Great quality, colors and construction. This is a narrow bag, great for files or a books. Very well made, and just lovely to look at the different sari pieces.
Wonderful Buy!
Oct 16, 2023 | Posted By Linda from NewYork, NY United States
Vibrant colors, roomy and sturdily made! This is beautiful and practical, two excellent qualities for a tote!
Love this
Sep 20, 2023 | Posted By Maggie from Cincinnati, OH United States
This is a very nice tote with great colors and a wonderful eclectic feel.
Quality Item
Jan 2, 2023 | Posted By Patricia A. Nelson from Eau Claire, WI United States
I bought six of these bags as Christmas presents for those closest to me, also putting smaller personal gifts inside. Simplified things immensely. All were beautiful, unique, and well-received.
love it
Dec 1, 2022 | Posted By Gail Cargill from McAlester, OK United States
It is everything and more than I expected
Sari Tote
Nov 4, 2022 | Posted By Mary Lou Laubach from Highlands Ranch, CO United States
I'm so pleased with my new tote- it's even prettier than the picture in the catalogue. I've carried it to two meetings and got lots of compliments. I passed the catalogue on to a friend who admired it.
Jangali Sari Tote
Sep 4, 2022 | Posted By Samuel Vance from Stillwater, OK United States
Great gift. Would have appreciated you reaching to me as this item was backordered from last Nov, instead of me needing to reorder without prompt. Received item is less colorful and less pattern diverse that catalog picture. Catalog shows tote w 9 patterns of different colors and significantly different shapes and patterns. What you sent has 9 very similar patterns in shape (ALL rectangle/box patterns), which is much less pleasing to the eye. I appreciate hand-made items will vary, but the variance from what you advertise needs to be minimal.
Nice Tote
Aug 7, 2022 | Posted By Julie from Middlebourne, WV United States
It is a nice tote and I receive compliments when I use it. I'm the state secretary for an organization and so I needed a bag to carry my meeting supplies. It is functional yet very eye appealing.
Lovely and We'll Made
Mar 30, 2022 | Posted By Belle from New Port Richey , FL United States
Nice size and colorful. I use it for a purse so appreciate that it has stiff sides, rather than just fabric. The inside pockets are useful. Another great purchase from SERRV.
Excellent bag
Oct 15, 2021 | Posted By Dr. Ron Emoff from Weaverville, NC United States
Beautiful color and design, plenty large, well constructed. My wife loves it, as do I.
Excellent quality
Oct 9, 2021 | Posted By Donna Lessard from Schenectady , NY United States
This was purchased as a gift for my daughter in law ..... she loves it! She said it was beautiful!