View Product Reviews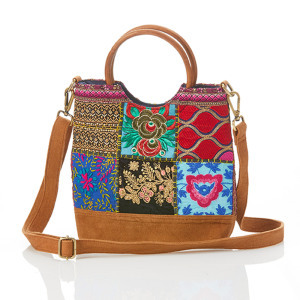 almost perfect bag
Dec 22, 2022 | Posted By michele quere from upper lake, CA United States
this bag is lovely, well-made, great colors; I love the round wooden handles. alas, it is just a bit too small for all the stuff I insist on carrying...(pack rat, ready for the apocalypse). if I would make one improvement it would be to make the top longer and wider, thus making it easier to get a hand down into the bottom of the bag.
Just ok
Oct 23, 2022 | Posted By Brown Pat from Ocean City, NJ United States
Although I'm keeping it, am disappointed. Isn't as pictured, very stiff and smaller, colors more garish.
beautiful handiwork
Dec 10, 2021 | Posted By Theresa V Crouch from Arlington, TX United States
I have gotten several compliments on the wonderful handiwork of this handbag!