View Product Reviews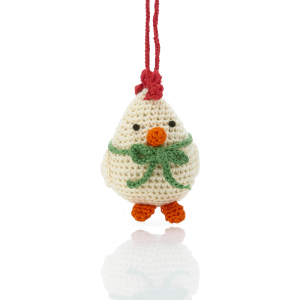 Adorable, lightweight, fun ornament
Dec 12, 2022 | Posted By Stephanie Zieger from McMurray, PA United States
This ornament is super cute! It's also light weight. I appreciate that it's a soft material, safe for animals or small children to play with.
Who couldn't love this little chicken?
Dec 9, 2022 | Posted By Catherine Sweeney from Brooklyn, NY United States
This chicken is just the cutest little thing and a welcome new addition to my and my friend's Christmas trees. I was looking for a stocking stuffer gift for a friend and when I saw him, I fell in love with his little face and festive green bow and had to have one for myself as well. Very cute and very well made. We will both treasure him for years.
So cute!
Dec 28, 2021 | Posted By Theresa Menard from Marathon , WI United States
I got all of the farm animal ornaments for our grandchildren. They are super cute and very high quality! The kids love them.
Adorable Chickens
Dec 22, 2021 | Posted By Carole from Key West, FL United States
Just love the chickens! Gave them to some friends with my Christmas card. And then I ordered more since they are so cute!