View Product Reviews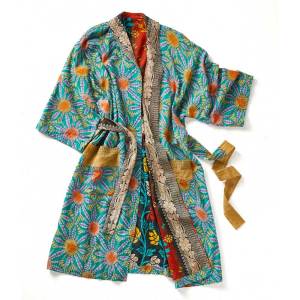 Disappointed
Mar 29, 2023 | Posted By Catherine P Stephenson from Mary Esther, FL United States
I am very disappointed with the bathrobe. Not because it isn't well made. It is well made. Not because it isn't soft and comfy. Because it is soft and comfy.. But is so very DULL! It is absolutely NOTHING like the one pictured. I realize they are one of a kind and your catalog stated you would pick one for me. Well, you picked a very well made, soft, comfy but EXTREMELY DULL bathrobe for me. Buyer beware.
different fabric pattern
Nov 25, 2021 | Posted By Krista Hitz from Tacoma, WA 98406, WA United States
I was sooooo excited to get this robe. I'd had my eye on it for months and was waiting for it to be available. I got it as soon as I could.... but the fabric is different. I love the fabric pattern/colors in the picture. Mine has no orange and is a paisley pattern. I'm not a fan of paisley. Suffice to say, I'm very disappointed. It was going to be my xmas present.
So Beautiful!
Nov 13, 2021 | Posted By Elizabeth Barrett from Raleigh, NC United States
I bought two of these for my daughters for Christmas. They are absolutely beautiful. The photo does not come close to doing them justice. They colors are just right and perfect choices for each daughter. I know they will enjoy these robes. Thank you.