View Product Reviews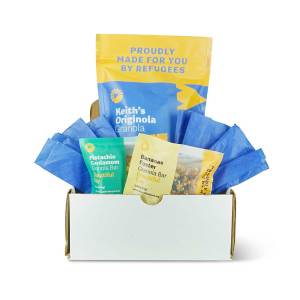 Beautiful day box
Mar 11, 2023 | Posted By Cindy Reemsnyder from Orlando, FL United States
I sent this as a gift and the recipient enjoyed all of the contents. It brightened his day and he liked getting something that was healthy.
Beautiful Day Granola
Feb 20, 2023 | Posted By Lina from Aurora, IL United States
"Keith's Granola" plus pair of unique flavor granola bars are such a healthy pleasure. I remember learning to briefly soak grape nuts --- remember them ? --- so I do the same thing, now, w/ my favorite milk (usually goat) and SERRV's Refugee Granola, usually over a pilot light atop our stove. I had just been thinking about possibly mixing & baking my own granola, again....when upon opening a recent SERRV email, I was delighted to notice your East Coast Refugee project --- so, thank you very much for providing a very timely and tasty cold cereal --- my newest Sunday diversion from our weekday cooked oatmeal and Friday Farina aka Cream of Wheat. And thanks for letting me feel somewhat important, to be doing something useful for some of the hardworking huddled masses who still seek hope in the USA, as once were our ancestors. Thank you for whomever keeps coming up w/ creative items to sell.
Only OK
Jul 28, 2022 | Posted By Nancy Deines from Sheridan, WY United States
The granola clumped together badly and I didn't love the taste.
beautiful day granola gift box
Apr 17, 2022 | Posted By donna lessard from Niskayuna, NY United States
My son and his wife were very happy to receive this item. They enjoyed the delicious granola immediately!
Great Granola
Feb 8, 2022 | Posted By Rita Crimi from Danbury , CT United States
This granola is so healthy as well as delicious ! Highly recommended.
happy serrver!
Dec 19, 2021 | Posted By Erinn P Hughes from Southport, NC United States
wrapped carefully and delicious!
Yummy!
Nov 9, 2021 | Posted By Stephanie S from WARREN, MI United States
This granola is the most delicious I ever had. It is soft and chewy with crunchy nuts and tart dried fruit. It is not overly sweet. The bars have unique flavors and are very filling. I look forward to buying this again.