View Product Reviews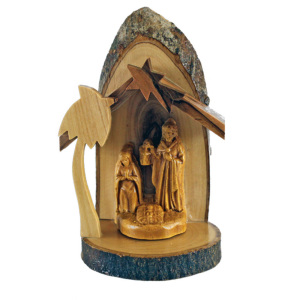 Petite Nativity
Nov 5, 2023 | Posted By Karl Thurmond from Tacoma, WA United States
This is to be a Christmas gift, and when I saw it I was so pleased. Beautiful and shiny wood. Arrived quickly and a bargain.
Charming ornament
Jan 12, 2023 | Posted By Bonnie from LANHAM, MD United States
I bought this ornament as a gift for our niece and her husband. They were very happy with the quality of the craftsmanship
Pretty nativity
Dec 5, 2022 | Posted By Hadasah from Oak Park, IL United States
A beautiful nativity for a small space or to add your collection
Lovely Creche
Nov 23, 2021 | Posted By Mark Hallinan from New York, NY United States
Lovely creche. Details were not as sharp as I had hoped, but still a wonderful addition to my Christmas decor.
Kathy
Nov 13, 2021 | Posted By Kathy Quinnan from VENICE, FL United States
The head of the carving of Joseph appears to have broken off during assembly and been glued back on with a gap between the body and the head.. It is very odd looking and I am disappointed.
Goodness! Thank you for letting us know. Customer Care has emailed you directly to resolve this. Clearly this is not acceptable quality and we want to make this right with you.
Olive Wood ornaments
Feb 11, 2021 | Posted By Lavinia from St. Louis, MO United States
All of the Olive Wood products that I have bought from Palestine have been very well made and beautiful
Wonderful Gift
Jan 31, 2021 | Posted By Lillian Seidel from Austin, TX United States
Ordered this for my grandmother, who absolutely loved it! I was so glad that she liked it and felt good about supporting artisans in making a fair wage for their work. This was an excellent gift!
Lovely
Jan 28, 2021 | Posted By K. Thompson from North Huntingdon, PA United States
Lovely little nativity! Bought for my Prayer Partner, but can think of so many people who would enjoy this little gem.
owner
Dec 5, 2020 | Posted By carol tschudy from Neenah, WI United States
buy this!!
Nov 12, 2020 | Posted By hallie from lake wales , FL United States
the details on this nativity are beautiful! you can tell so much time and effort went into making this!
Correct
Dec 13, 2017 | Posted By Celia from Dublin, OH United States
Nice items. Good prices. arrived on time.
petite wooden nativity
Dec 5, 2017 | Posted By Mary Ann from Botkins, OH United States
This little nativity is so beautiful. I am giving it to my son who is a seminarian.
Petite Olivewood Naitivity
Jan 20, 2017 | Posted By Nancyellen from Westborough, MA United States
Impressive! I've seen large olive wood pieces of art, and the artisans who made them were skillful. but to make a Nativity Set *so small* with such detail; (especially in the Holy Family) I don't know how they did it! So glad Serrv is helping these artisans keeping their crafts alive and accessible! Thank you very much!
Great piece.
Oct 12, 2016 | Posted By Annemarie Iacobuzio from AL United States
Nicely carved. Great for a small table or bookcase.