View Product Reviews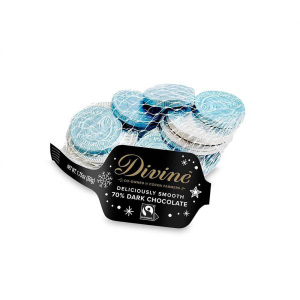 Perfect chocolate coins
Feb 3, 2023 | Posted By Nicole from Tampa, FL United States
These are the best chocolate coins I've had. We put them in shoes for St. Nicholas Day every year. They might also make good Hanukkah gifts.
Delicious
Jan 8, 2023 | Posted By Merilee from Price, UT United States
We used these for Christmas stocking stuffers and liked them very much. Any divine chocolate is a very special treat!
A fun tradition
Nov 17, 2022 | Posted By Carmen Kulig from Bettendorf, IA United States
I have purchased the dark and milk chocolate coins for Christmas for my kids for several years now. The chocolate is lovely and they are festive.
Great For Chanukah and Christmas and...
Dec 19, 2021 | Posted By Daniel from Jamaica Plain, MA United States
So glad you sell fair trade coins that can be Chanukah geldt or stocking stuffers or St. Nicholas Day shoe coins, and so on! I am grateful for what you all do to try to give workers better working and living conditions and a path to self sufficiency.
Dark chocolate coins
Dec 2, 2021 | Posted By Gretchen Geller from Butte, MT United States
Am saving them for stockings on Christmas Eve....
A nice Hanukkah gift
Nov 2, 2021 | Posted By Karen from Oxnard, CA United States
It is almost impossible to find dark chocolate coins but you have saved me again this year. I always give these for a little gift at the start of Hanukkah and my friend loves them.
annual favorite
Dec 16, 2020 | Posted By Beth Luey from Fairhaven, MA United States
I give these for Hanukkah every year, and they're delicious.
Great stocking stuffer!
Dec 1, 2020 | Posted By LeeAnne McCoy from TACOMA, WA United States
My kids absolutely love these Divine chocolate coins and I try to buy them every year to put in their stockings. They are always quite excited to find them when they open their stockings!
Dark chocolate coins
Nov 30, 2020 | Posted By Linda DeFord from Wheat Ridge, CO United States
Truly Divine Chocolate
Nov 2, 2020 | Posted By Judith Muller from Old Town, ME United States
The coins, the bars: Absolutely wonderful. My favorite bar is the 70% dark.
Fast shipping and excellent packing
Oct 1, 2020 | Posted By Karen Stark from Oxnard, CA United States
Finding these coins in dark chocolate is rare so I jumped on them for Hanukkah gifts, even though it's only October. They arrived super fast, packed in insulation along with a cold pack so they wouldn't melt. It's even more special that they are fair trade.
Review for Dark Chocolate Coins
Oct 27, 2019 | Posted By Jean Marie Naples from Suffern, NY United States
All products that I ordered arrived at the expected date and were well packed to prevent any damage to the contents. The food products were all purchased as gifts for my friends in Ghana. I will bring them with me when I travel to Ghana. Thank you for offering these very delicious fair-trade chocolate, at a reasonable price, for all families to enjoy!
Great chocolate
Oct 26, 2019 | Posted By Mary from Poultney, VT United States
The dark chocolate is very tasty and has a smooth velvety taste.
Lovely chocolates
Jan 15, 2017 | Posted By karen from Concord, CA United States
Got these as New Years treats for several friends, to wish them a sweet and prosperous year. They were a bit hit!