View Product Reviews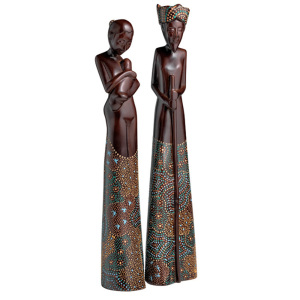 Gorgeous!
Jan 9, 2022 | Posted By Dana Watkins from Orange, CA United States
I was so disappointed when I tried to order this nativity and found it was out of stock. Fortunately, I was notified a couple of weeks later that they had it back, and it was promptly mailed out to me. It towers over some of my other nativities, and it is absolutely beautiful. The two pieces are tall and stately, and the decorative paint dots add to their exoticism and elegance. I have many nativities; this one might be my new favorite.
Beautifully crafted nativity
Dec 6, 2018 | Posted By Heather Callow from Torrance, CA United States
The workmanship and design are excellent. Unfortunately, mine arrived with one figure broken at the neck. They do need to be packed more securely so there is no possibility of shifting around during shipping. I hope you will continue to stock them -- just pack them better!
We are so sorry this happened and will contact you directly to resolve the situation. We have shared your feedback with our warehouse team as well.
OUTSTANDING WOOD SCULPTURES
Nov 1, 2018 | Posted By Rochelle from little egg harbor , NJ United States
I am so pleased with my purchase of these figurines. The workmanship is so precise and the details in the wood carvings are excellent. Thanks Serrv for your prompt shipment.
Elegant silhouettes
Nov 5, 2017 | Posted By John from Klein , TX United States
The nativity is a beautiful silhouette of the holy family with amazing artwork on the lower portion of the pieces.
Mary and Joseph figures
Nov 23, 2016 | Posted By Melanie Kempff from Spokane, WA United States
These are just beautiful.
Loveliest Holy Family Ever
Nov 24, 2013 | Posted By ElleStyle from Ashland, OR United States
These pieces are simply stunning. The craftsmanship is excellent, and the glossy wood shines in the light. The figures are so elegantly shaped and quite dear. The humanity of the artist is evident in these pieces. I know many people would display these as Christmas decoration, but I wouldn't dream of putting these away. They are part of my own "permanent collection!" I guess it's obvious how pleased I am with my purchase! I am thinking of people I know for whom these would be an original and unexpected gift. Don't pass up these lovely statuettes.
Striking!
Dec 17, 2012 | Posted By Leslye from Smyrna, GA United States
This is truly striking...photo does not reflect its beauty.