View Product Reviews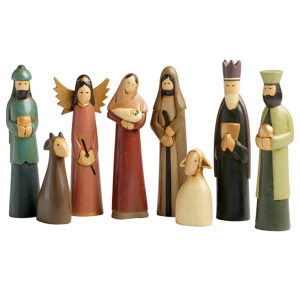 This is wonderful
Dec 18, 2022 | Posted By Mary Tucker from Dumas, Arkansas, USA, AR United States
This is a great addition to my collection. I love it!
Nativity Review
Dec 23, 2020 | Posted By Susan Lindquist from Fitzwilliam, NH United States
I love this nativity scene ... simple, folksy, and so lovely and shiny. With candlelight, in glimmers ! So pretty. It's pieces are such that children would love it. Easy to grip for little hands to set up and manuever. Perfect gift for a young family !
Good quality, but colors not as pictured
Dec 21, 2020 | Posted By Marcy from Madison, WI United States
This is a well-made nativity and I like the sleek design, but the paint colors are more muted and muddier than they appear in the photos. Especially at night, they all look like different shades of brown, tan, or dark green. I was looking for something brighter (as pictured online) so I've returned mine.
Perfect
Oct 13, 2019 | Posted By Maureen Readinger from Narberth, PA United States
This product is exactly as pictured. simple, beautiful
Great Product and Customer Service
Jan 8, 2018 | Posted By Patricia from Minneapolis, MN United States
This nativity set is beautiful! The angel came with a broken wing, but I contacted customer service and they immediately responded saying they would send me a replacement. I'm very satisfied with my purchase.
Indonesian Folk Nativity
Dec 10, 2017 | Posted By Katie from North Yarmouth, ME United States
I love this! So well made and light weight. Beautiful colors!
Nice quality
Jan 8, 2017 | Posted By KJ from Chicagoland, IL United States
Beautiful gift
Sep 6, 2016 | Posted By Lois from Romeo, MI United States
I ordered the nativity for a wedding gift. It is just lovely. Well done!