View Product Reviews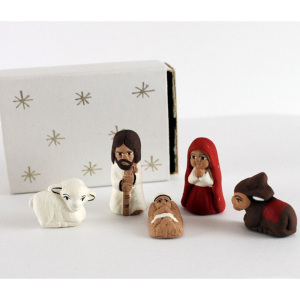 Miniature delight
Nov 25, 2021 | Posted By Cathleen T. Speich-Ferguson from Dillon, MT United States
Very tiny and very cute nativity in a matchbox. Great addition to my nativity collection.
Surprisingly Beautiful
Nov 23, 2021 | Posted By Mark Hallinan from New York, NY United States
For such a tiny creche, the details were well executed. It is lovely.
Matchbox
Apr 9, 2019 | Posted By Patricia Zirini from Palm Coast, FL United States
It is perfect...the detail is there.
Delightful miniatures!
Dec 27, 2018 | Posted By Lois Bair from State College, PA United States
These tiny figures generated a great deal of interest in our customers. The craftsmanship of the detailing is exceptional.
love it...
Dec 9, 2018 | Posted By Bob S. from Lansing, NC United States
My wife received one as a gift and I immediately ordered one for my granddaughter.
Tiny family
Dec 16, 2017 | Posted By Janet from Cleveland, GA United States
This is an unusual and delightful nativity set. The tiny figures are amazingly detailed. Great stocking gift!
matchbox nativity
Dec 14, 2017 | Posted By Barbara from Cedar Falls, IA United States
Our store customers love these tiny nativities. I prefer the brightly colored ones, but they were on b/o.
tiny and cute
Nov 9, 2017 | Posted By Susanna from Houston, TX United States
this is sooo tiny! seriously about the size of a matchbox - the little bitty ones that come in the bulk packages- but the figures are very detailed for being so tiny! love it!
Beautifully made
Jan 27, 2015 | Posted By Lara from Dakota, IL United States
So tiny & so delicately and beautifully done.