View Product Reviews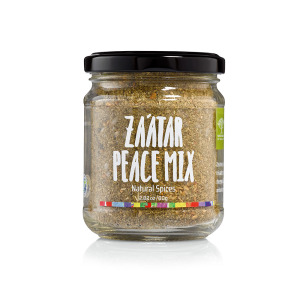 The Best Za'Atar ever!
Sep 15, 2023 | Posted By ken hulme from Fort Myers, Florida, FL United States
I can buy a half dozen blends of za'atar from as many different countries in local Middle Eastern shops. But I prefer this blend to all others for my Personal Chef business and personal use on eggs, stirfries, stuffed eggplant and other dishes!
Top Quality
Dec 1, 2022 | Posted By Ken Hulme from Fort Myers, Florida, FL United States
I've sampled Za'atar blends from a number of sources, but this -- this is the best blend of herbs, ever! Not ground to a powder, fresh (as fresh as dried herbs can be) and exception on fish, vegetables, eggs and more. I use this exclusively in my Personal Chef business.
Best Za'Atar Blend Ever!
Nov 9, 2022 | Posted By Ken Hulme from Fort Myers, Florida, FL United States
As a professional Personal Chef cooking for a wide range of clients, I have used quite a few Za'Atar spice blends over the years. But, hands down, this is the Best, most flavor-filled Za'Atar I have found, to use in my personal and professional cooking,
Za'atar Mix
Jun 21, 2022 | Posted By Sarah Melissa Johnson from Putney, VT United States
This Za'atar mix is delicious every time I order it. I use it daily and have given it as gifts to friends and family who have also enjoyed it.
Best ZA'ATAR ever!
Dec 26, 2021 | Posted By Roxanne Rae from Ashland, OR United States
I was gifted this product several years ago and have been searching for it since. In the meantime I purchased 4 other brands, all unsatisfactory. Glad to have this resource.
Best spice mix ever!!
Feb 16, 2021 | Posted By Daynna from Charleston , SC United States
My husband and I love this spice mix. If you enjoy Mediterranean food, you must try this. We use on everything from eggs, to seafood to potatoes to salads. Highly recommend!!
Tasty Zatar
Nov 28, 2020 | Posted By Mary C Payrow-Olia from Sandy Springs, GA United States
My friend loves this zatar. It makes a great gift.
Unique Gift
Nov 1, 2020 | Posted By Theresa L Firestone from ELKHART, IN, IN United States
I ordered the Baking Day Gift Basket along with the Za'atar Seasoning Mix, Organic Olive Oil, Pomegranate Vinegar, added a fresh loaf of bread to create a unique gift for a family member. We were not disappointed. Items were as described, quality, unique, flavorful and will be enjoyed for a long time.
Great seasoning
May 20, 2019 | Posted By Gloria Ryan from Oceanside , CA United States
Za'atar is a spice blend I've only read about before. I've just used this three times so far but have loved the subtle blend of flavors this adds to dishes. I dredged pieces of chicken in olive oil and za'star before pan frying. I made a simple dip with za'atar and sour cream. And I added it to rice-and-vegetables for a side dish with fish. All three were great. (I think this will become a great alternative flavor blend to my go-to herbes de Provence!)
Excellent Za'atar Mix Spice
Aug 25, 2018 | Posted By Ruina Senkovich from Smithfield, VA United States
Very fresh dried herbs that can be used with meats and/or veggies. Even used with a meat sandwich and eggs. stir fry dishes.
Za'tar
Jul 16, 2018 | Posted By Michal Moskow from St Paul, MN United States
I am resident in the US and Sweden and had Sinyanna's za'tar when I visited them in Cana a year ago. It was delicious - the best I've ever had - so I was glad to be able to order it. Sindyanna is a ssuccessfu nonprofit Fair Trade venture of Arab and Jewish women and shows us one of many unheralded projects to bring people together to provide sustenance in peaceful ways.
Za'atar seasoning mix is exotic
Jun 28, 2018 | Posted By Irene from Paso Robles, CA United States
Since reading about all the cooking seasonings in the kitchen area of the catalog I have always been interested in the Za'atar mix, I am glad I tried it, I love it, it is very versatile, of high quality and I will order it again. I will also try the other bottled seasonings. Ordering and following the shipping procedure on line was easy. I will continue to be a faithful patron as I explore your other products.
Za'atar
Apr 19, 2018 | Posted By Michael from Playa Vista, CA United States
We first sampled the za'atar when we visited Sindyana in northern Israel. This is the finest and most authentic za'atar we have tasted.
Traditional Za'atar Mix
Apr 15, 2018 | Posted By Ruina from Smithfield, VA United States
Delicate blend that works well with light meats and salad blends. Arrived fresh with a 2019 expiration date.. Thanks.
Yum!
Apr 14, 2018 | Posted By Judy from New Orleans, LA United States
I am glad that I bought this Zaatar spice blend through you! Completely unlike any that I found made here. Apsolutely delicious and a great value for the cost.
Amazing
Dec 23, 2017 | Posted By Donna from Philadelphia, PA United States
I decided to try this on a whim. I thought how cool it would be to receive something that originates where my Savior travelled. I'm now on my third jar because it is absolutely amazing! I use it on pasta, chicken, roasts, even omelets! You will love it, I'm sure.
Za'tar
Jan 1, 2017 | Posted By Janet from New York, NY United States
Hard to find one I like - this one is good.
Delicious!
Dec 23, 2016 | Posted By Susan from York, ME United States
This is a delicious way to make appetizers, rub on meat and poultry. I gave this as a gift . Was easy to shop with Serrv!
Za'atar Mix
Dec 13, 2016 | Posted By Mary from St. Paul, MN United States
This is my second order of Za'atar mix as love the sumac and sesame blend. Also giving it as gifts this year.
Great spices
Aug 27, 2016 | Posted By Texas connection from Houston, TX United States
I really like these spices and went to some effort to locate them to order some more. Good on fish, meat, in soup and even on salad. Cheers
Mary
Oct 23, 2015 | Posted By Mary Atchison from Northville, MI United States
Simply delicious seasoning! Great for anything but especially chicken and pasta.
Excellent!
Dec 26, 2013 | Posted By Katie from Blacksburg, VA United States
Very fresh and flavorful - wonderful on sandwiches as well as traditional dishes. Highly recommended!