View Product Reviews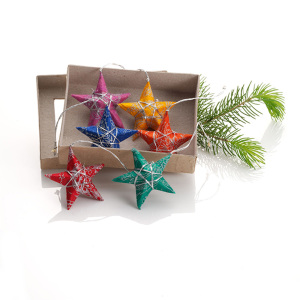 Lovely!
Jan 4, 2022 | Posted By Carolyn B. from Baltimore, MD United States
I bought these along with the sari ornaments, which I've had my eye on for some time. We don't always have a tree, so this year I used fine ribbon to tie then to a horizontal bamboo garden stake, then mounted the stake above a large mirror in the dining room. I might not take them down till spring! They are magical.
Lovely little stars
Dec 26, 2021 | Posted By Bev from Seattle , WA United States
These stars are gracing our grandson's first Christmas tree as a grown man . They are lovely.
My Stars!
Nov 29, 2020 | Posted By Sandra C Magers from Dallas, TX United States
This star garland is a beautifully-crafted celebration of Christmas! I have one and purchased one for a good friend. I highly recommend this product!
Love these
Nov 15, 2020 | Posted By Suzanne from Mount Angel, OR United States
Beautifully made and so fun to use for decorating.
package topper
Nov 11, 2020 | Posted By Joy Fairbanks from BLAIRSVILLE, PA United States
These lovely little stars make a gift on top of a gift
Beautiful
Dec 10, 2018 | Posted By Suzanne Grasser from Flat Rock, NC United States
Small, but beautiful -- I love them!
stars
Dec 5, 2018 | Posted By Janet Lewis from Lebanon, CT United States
I order this item every year and sell out of it.
Wishing stars
Dec 2, 2018 | Posted By Leslie from San Juan Bautista, CA United States
They are a little smaller than I expected, but very light weight and beautifully crafted. They look gorgeous hanging at various levels from the ceiling above my Christmas tree.
Stars
Nov 27, 2018 | Posted By Linda J. Burr from St. Johns, MI United States
This is the second year I have purchased items for family members from SERRV. I have not been disappointed with the comments from the gift recipients. It is a wonderful time to give in order to help other Christian sisters far away.
Bright Colorful Stars
Nov 5, 2018 | Posted By Sharon Dodge from Sunset Beach, NC United States
I love the colors of the star ornaments. I bought one set for a friend and one for me. I have a small tree so they will look perfect on it.
Wishing Star ornaments
Aug 4, 2018 | Posted By Barbara from Cedar Falls, IA United States
These have sold well for us. They are at a good price point.
Star Bright
Jan 25, 2018 | Posted By D DEWAYNE from Glendale , CA United States
Love the colorful colors of each star. A lovely detail for your Christmas decorations!
precious stars
Jan 24, 2018 | Posted By Denise from Contoocook, NH United States
I adore my precious handmade stars. I also work with my hands doing needlework and gardening. I understand the hours and love that goes into anything handmade. I truly appreciate and am thankful to all who had a hand in these beautiful works of art.
Nice ornaments
Dec 15, 2017 | Posted By CG from Deming, NM United States
These small stars are beautifully made. They are perfect for small trees or attaching to packages. I definitely recommend them.
Consignment Sale
Nov 23, 2016 | Posted By Earlene Wheeler from Waldron, IN United States
Very pleased with the quality of of the merchandise
Adorable!
Nov 2, 2016 | Posted By Rebecca from Broomfield, CO United States
I love these little star ornaments, they are actually a little bigger than I expected but not too much so! I feel the care that went into making them when I look at them.
fun decor
Sep 19, 2016 | Posted By Tami Biddle from Carlisle , PA United States
My daughter placed these in her dorm room for some fun and colorful decor. They look great!
Sweetest Ornaments
Dec 4, 2015 | Posted By Patricia Stevens from Sherwood, WI United States
These little stars are so sweet. Very lightweight. Can be used on gifts or as ornaments. Just beautiful. Thank you!